In order to get a fashionable haircut, it's not enough to focus just on its shape or style. Making your hair easier to maintain while also adding texture and tenderness are all very important factors to consider as well. And if you're looking for a new look, then a pair of thinning shears is an absolute winner over the conventional, straight-edge hairdressing scissors.
Fortunately for you thicker-tressed folks out there, there's a solution that you might not have known about: thinning scissors. Using this type of scissor can help reduce the weight of your hair while also enhancing your looks at the same time. These toothed scissors can help you go from having clumsily styled hair to a sleek and beautiful one in no time. 
Most thinning scissors come with a pair of blades. One is sharp-sided, while the other half has teeth-like edges that'll help you remove any extra hair, therefore making your hair fluffier and easier to maintain. So, if you're someone who wants to flaunt your long hair with little maintenance, then thinning scissors can be your savior.
That said, it all depends on your end goal. If you're doubtful of using thinning scissors, then fear not! I have answers to all your questions, and in this definitive guide, I will help you find the best thinning scissors that'll help you get the haircut of your dreams.
What Exactly Are Thinning Scissors?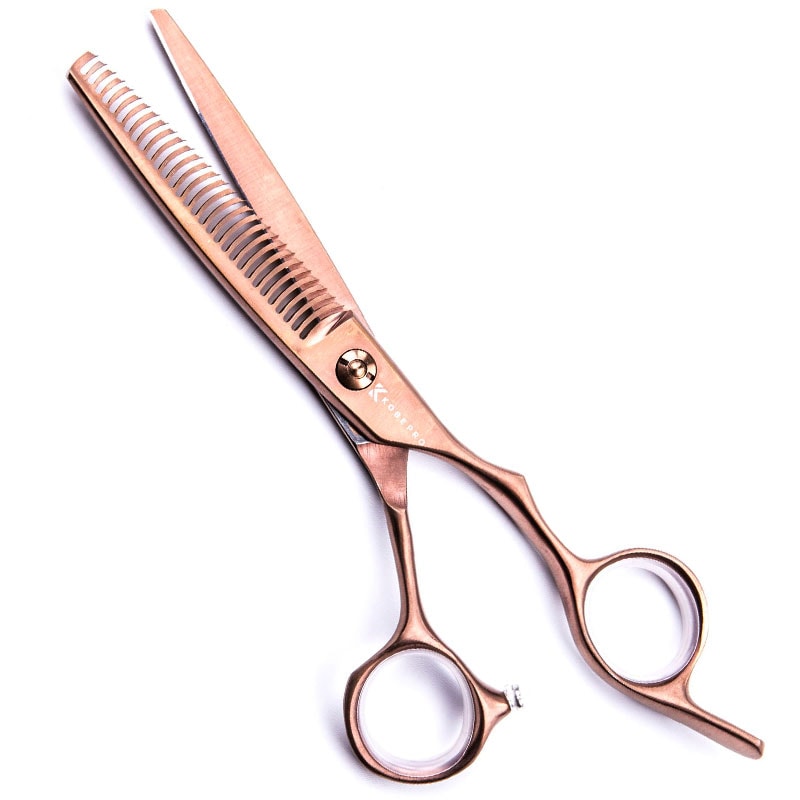 As the name suggests, thinning scissors (often known as "thinning shears") are a special kind of scissors that make your hair lighter and help improve its texture. Their specially-grooved edges cut through the hair mass in no time, making them pretty useful for thick hair if you want to lower its density. 
There are three different kinds of thinning scissors, each having its benefits:
Texture Scissors

Chunking Scissors

Finishing Scissors
Let's go ahead and explore these three types, shall we?
Texture Scissors 
Texture scissors are widely used and are incredibly versatile. With them, you can easily reduce up to 40-60% of your hair with ease. If you have no prior experience using thinning scissors, then you can start with these texture scissors. You just want to start slow, though, and be your own judge on how well it blends with your overall look.
Chunking Scissors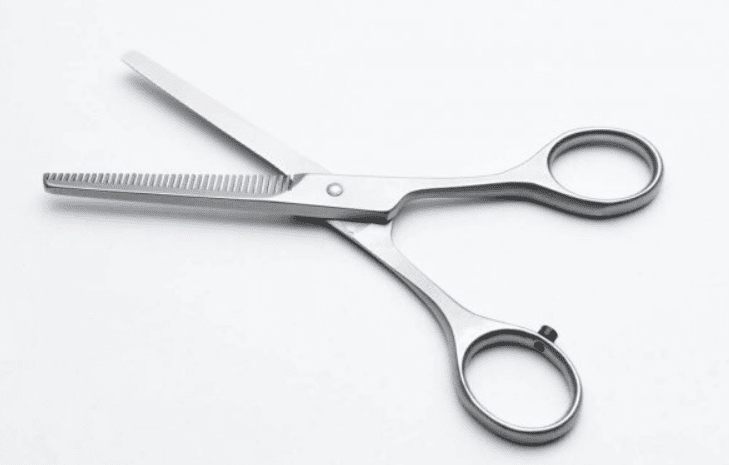 Chunking scissors are the big guns. They can mow down thick tangles of unruly hair in no time. These chunking shears are great for long hair, and if your hair has grown like the mangroves? Then these scissors are definitely going to be your best bet.
Finishing Scissors
Finishing scissors may have the most modest impact on your hair. Therefore, you'll want to use them as a brush-up tool. Finer details and seamless transitions are possible with these scissors, as they cut less hair at once. 
Since thick hair is prone to thinning, finishing scissors are not suggested throughout the whole thinning process, though. Instead, they should only be used to provide the finishing touch to fix last-minute details to your new 'do. 
The Main Differences Between Thinning Shears and Texturizing Shears 
It's easy to assume that both texturizing and thinning shears are the same, but both have their own different purpose. Thinning shears are used to make your hair light and fluffy, while texturizing shears are more of a blending kind of scissors, which are mainly used at the end of your hair cut to smoothen the ends.
A few of their subtle but important differences are:
Texturizing scissors can be used to give more movement and texture to a straight cut, whereas thinning scissors are used to eliminate unwanted bulkiness and blending of hair, allowing for a more

exciting hairstyle

.

Texturing scissors have a smaller number of teeth, whereas thinning scissors often have more teeth on them.

Texturing scissors have a wider gap between their teeth, whereas a pair of thinning scissors tend to have smaller spaces between them.
Now that you have a clear idea between thinning and texturizing shears, you can purchase a pair with confidence to help you achieve your hair goals. For instance, if you want to get rid of that unwanted hair weighing you down, a pair of thinning scissors can do the job.
On the other hand, if you're just looking to add a little bit of oomph to your hair, then texturizing scissors are just the ticket. These will help you get that volume and structure you crave by adding layers.
What Are the Six Best Thinning Scissors Available?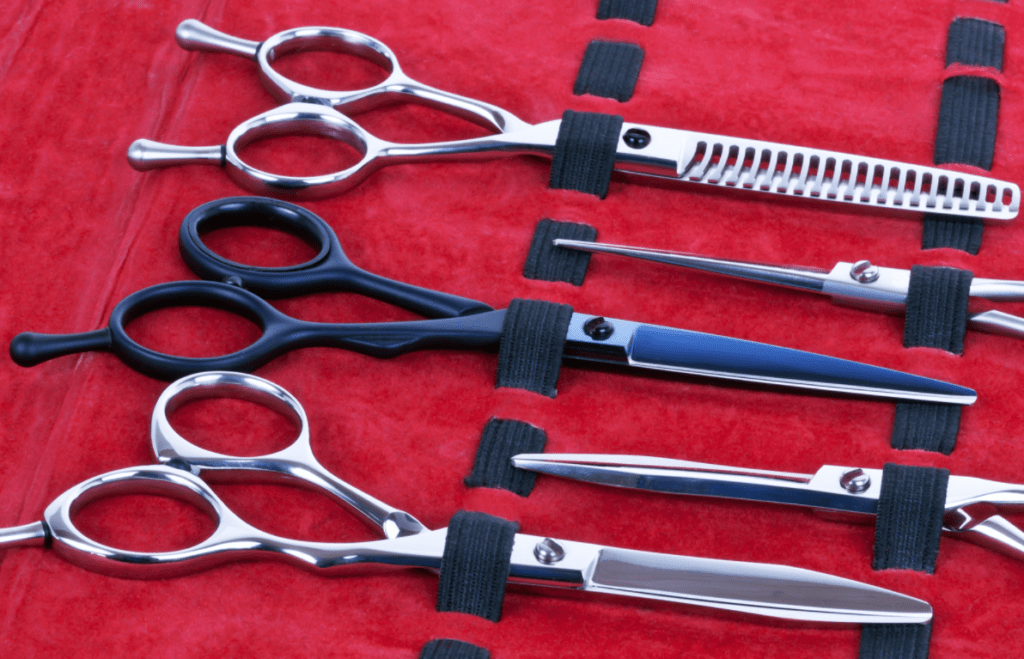 If you've never heard of a "thinning scissor," then you're probably curious about how to go about finding one that's right for you. That being said, I'd like to explain my criteria for compiling this list of the best thinning scissors in the market.
My Evaluation Criteria
It's always better to visit your hairstylist than to do a DIY at your home. Still, if you aspire to become the next Paul Mitchel or Vidal Sassoon (and honestly, a job as a hairstylist would be pretty dang awesome!), let me go ahead and explain the criteria behind my top picks.
That way, you can better understand what to look for before purchasing a thinning scissor to your taste. In my search, I focused on these key factors:
Materials

Budget

Teeth

Grip

Adjustable Screws
Materials
If you're looking for the best quality thinning scissors, you'll find that Japanese and German stainless-steel scissors are going to be your best bet. Shoddy thinning scissors, on the other hand, won't last for a very long time and may even provide an inferior cut.
To increase their longevity, make sure to clean the scissors after every use with a microfiber cloth and dry them off thoroughly. A well-made scissor made with an alloy of carbon, manganese, and chromium would be a solid budget choice.
Budget
Now, the budget is a tricky part. If you want to buy premium-quality thinning scissors, you'll find that they are quite expensive. However, is it wise to spend on a cheaper pair of scissors if you're only going to use them once or twice? 
Yeah, I don't think so. It'll be best to look for a budget pair of scissors that can easily last for at least two years. At the same time, though, they'll still provide a good cut.
Teeth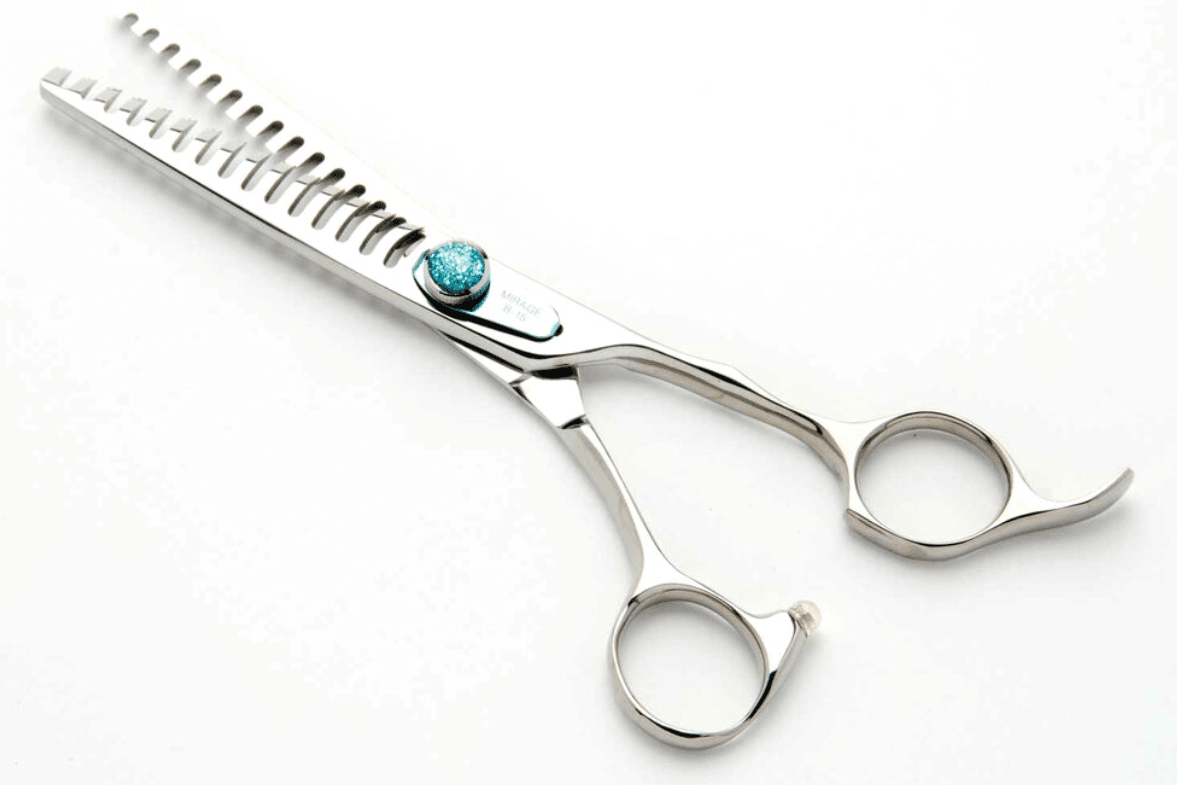 When buying thinning scissors, the size of their teeth is an important consideration. By this, I'm referring to the size and number of teeth present in the scissors. Smaller teeth on the shears can help you blend and soften your haircut, whereas thickness can be reduced by using scissors with broader teeth.
As for the number of teeth, I have already discussed the three types of thinning scissors, all with different use cases. To give you a better idea as to how many teeth you'll find on the pair you choose, here's the range's you may encounter:
Blending Scissors (25 teeth)

Chunking Scissors (5-15 teeth)

Finishing Scissors (20 teeth)
Grip
A good scissor without a good grip is a bad scissor, period. Always look for the grip before making your purchase. Any half-decent scissor will come with a good offset grip.
An offset grip, by the way, is where one handle is shorter than the other to provide a more ergonomic hold. The shorter thumb grip and the expanded finger support can make haircutting a whole lot simpler and lead to fewer hand cramps.
Adjustable Screws
Thinning scissors should have adjustable screws, so look for a set that includes them. Adjustable screws will give you complete control over how tight or slack the shears are, making haircutting more seamless.
My Favorite Thinning Scissors
Below, I have listed my personal favorite thinning scissors. With these in hand, you can easily transform your hair into a masterpiece.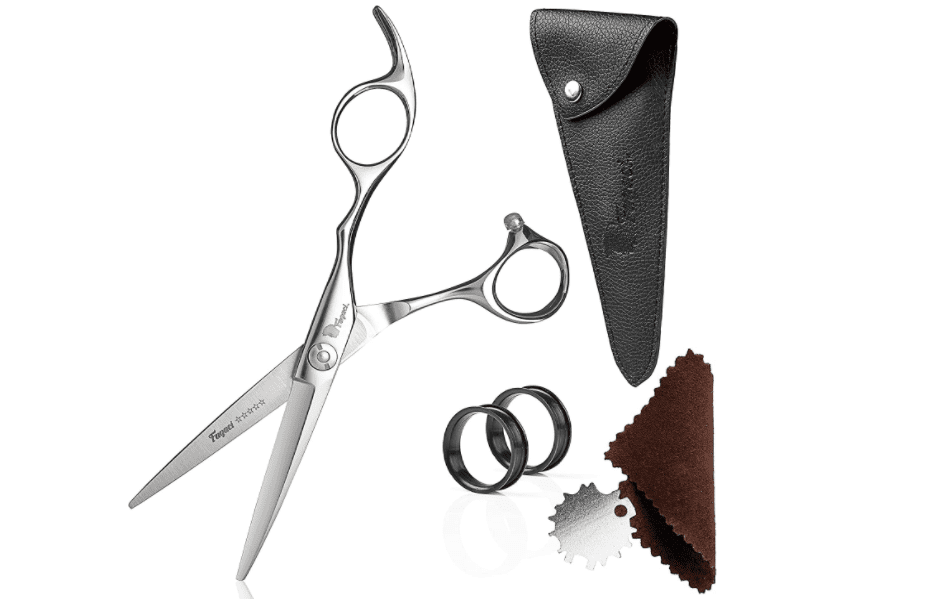 First on my list is Fagachi's professional thinning scissors. With over 76% 5-star reviews on Amazon, this scissor can be anyone's bread and butter for reducing hair density. Fagaci's thinning scissors come in four different sizes:
5 inches

5.5 inches

6 inches

7 inches
In addition, the 6-inch scissors break down further, offering straight, with offsets, swivel, and a left-handed model. Stainless steel is used to craft these professional scissors, making them highly durable. 
Their grip is well made, so the cut is pretty accurate and provides a high comfort level. Professionally crafted blade joints ensure that this thinning shears' motion and adjustment are incredibly delicate, with long-lasting resistance and minimal sound when they are used.
Pros
Highly durable

Stainless steel

They come with a lifetime warranty

Ergonomic handle

Excellent cutting
Cons
They are quite expensive

Extremely sharp — be careful when using!

Does need to be tightened occasionally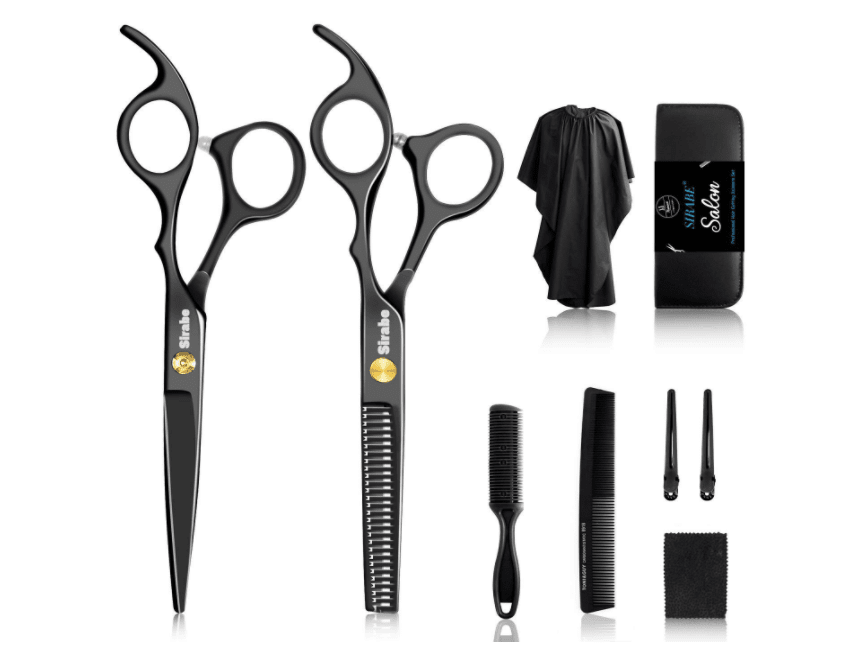 With more than 5000 ratings, Sirabe's thinning scissors are built for every need. Apart from being extremely durable, Sirabe's thinning scissors won't break your hair, thanks to the fact that they're made of Japanese stainless steel.
They also come with a shock absorber near the handle, reducing the noise caused when the two handles strike each other. An adjustable screw is also provided to adjust the tension and an offset grip to provide the best grip for prolonged usage. To make things better, they're pretty affordable as well and even include a nice zipped purse!
Pros
Budget-friendly

Made with Japanese stainless steel

They come with an adjustable screw

They come with an offset grip

They come with a multipurpose hair grooming kit
Cons
The thumb holes are on the smaller side

They do need to be tightened regularly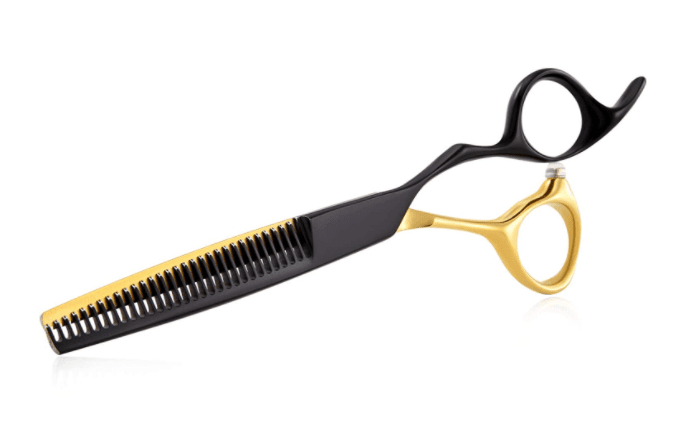 Jason's thinning scissors are only available in a 6-inch variant. These scissors are as basic as you can get, but that doesn't mean they skimp on quality. Like Sirabe's thinning scissors, Jason made sure to use the premium 440C Japanese stainless steel for durability.
These thinning shears have a beautiful design that'll effortlessly cut through your hair, just like when a knife cuts through butter. The shears are small and light, making them convenient to use. An offset grip allows for a comfortable and firm grasp, which gives the user the freedom of movement they need to make the best cuts.
These handles are also incredibly ergonomic, allowing the product to be used by both professionals and DIY enthusiasts. The quality of these professional-grade scissors will far exceed your expectations, whether you're using them to freshen up your mullet (and yes, they're back in style!) or to create an entirely new haircut.
Pros
Come with an offset grip

Use high-quality adjustable screws

Made from Japanese stainless steel

Easy to use

Quite durable
Cons
They are fairly expensive

They tend to squeak when using them

They can be too large for some users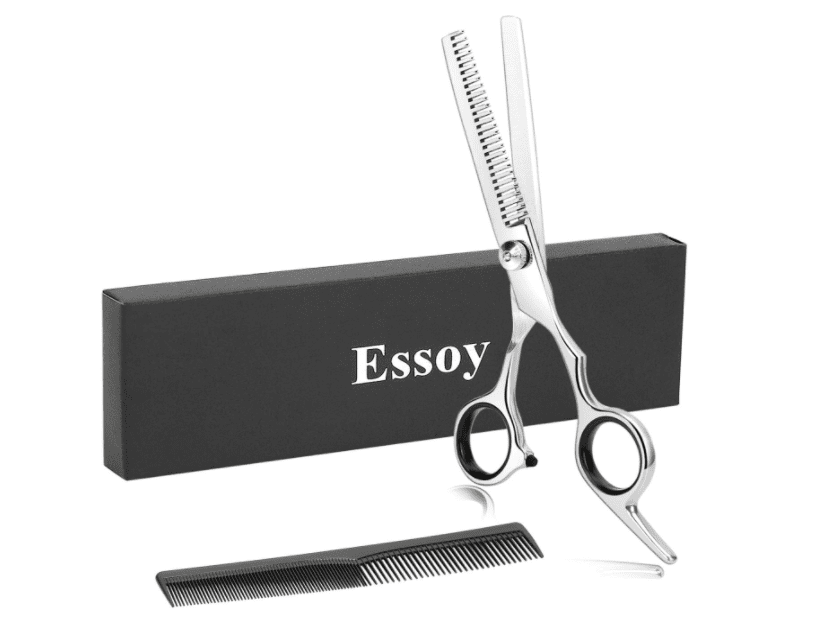 The Essoy thinning scissors are composed of 4CR stainless steel, which makes them extremely durable, providing you with a seamless haircut experience. The sharp blade is ideal for both wet and dry haircuts, as well as trimmings that'll give you a sleek and modern look.
These hair scissors are around 6.7 inches in length, with their blades measuring approximately 2.4 inches. The shorter thumb grip and the expanded finger support simplify hair cutting, which will help you cut without fatigue.
Hairstyling scissors may be simply tightened or loosened with the help of an adjustable screw, so don't be afraid to adjust it to your taste! The muffler is another excellent quality of life addition that reduces the amount of noise when both handles collide. If you only use thinning scissors occasionally, then Essoy's thinning scissors will be a wise choice that won't break your bank.
Pros
Look elegant

They come with a muffler to reduce the noise

Value for money

Easy to use

They come with an offset grip
Cons
Takes off more hair than expected

Rust can be a problem

Finger holes are quite small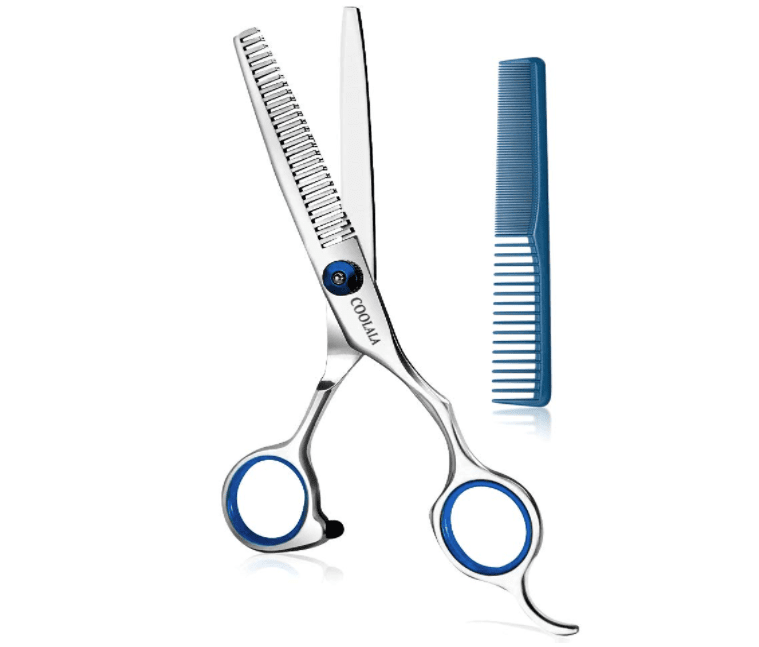 With more than six thousand ratings, Coolala's thinning shears are definitely best sellers. The reason is not surprising at all, either. Coolala has found the key to success by offering a good product at a reasonable price. You can't go wrong with a surprisingly affordable product with over 90% positive reviews, can you?
This pair of thinning scissors comes with all the bells and whistles, from high-quality Japanese stainless steel to adjustable screws. On top of that, you'll get a free hair comb as a bonus gift with your purchase. Their polished surface, ergonomic handle, and extra grip covering are proof of Coolala's focus on quality.
Coolala's thinning shears are one of the great budget options that you can go for without having a second thought. That said, having a second thought won't change your mind. These scissors are that good!
Pros
Value for money

Ergonomic design

Ideal for all

hair types

Non-slip handle is a plus

Sharp teeth blades

Adjustable Screws
Cons
They may lose sharpness after a while

Harder to use on thinner sections of hair

Can pull the hair when cutting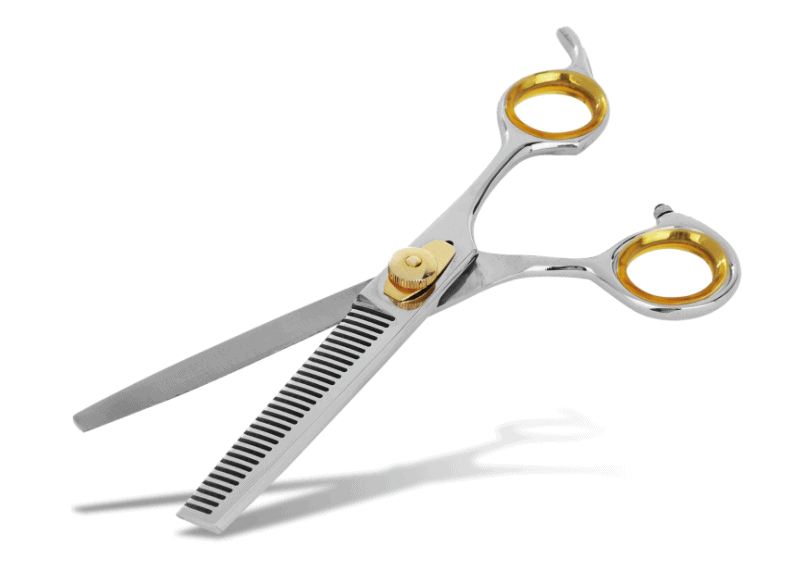 Sharf's scissors fall into the premium category of thinning scissors. These shears are made with superior 440C Japanese stainless steel that'll last for a long, long time. The 30-toothed bad boys are precision monsters that can easily cut your hair without any hassle.
The gold accent screw and the gold rubber replaceable comfort rings make these hair-texturizing scissors excellent for both home and barbershops alike. In order to ensure that your fingers fit snugly into the holes, Sharf's thinning scissors are meticulously crafted to be as precise as possible without risking putting a strain on your hands.
In order to provide long-lasting thinning scissors, Sharf has carefully selected Japanese stainless steel, which is anti-rust, rugged, and exceptionally durable. These scissors are designed to remain comfortable even after extended use. If you want to buy a pair of premium thinning scissors, this can be a great option.
Pros
Precise thinning scissors

Premium design

They are quite durable

Well-engineered product

Rust resistant
Cons
They are quite expensive

Needs proper adjustment beforehand
Are Thinning Scissors Safe to Me To Use?
It's understandable to feel a little nervous about buying thinning scissors, especially if you've never cut your own hair before. Before taking the plunge, though, just take a deep breath and relax. There's nothing inherently dangerous about using scissors (though I don't recommend running with them, of course).
The bottom line here is that thinning scissors are nothing but a tool. In the right hands, they are an incredible resource, allowing you to have a lot of control over your look. That said, who knows how they will fare in the hands of an amateur? 
Unfortunately, the incorrect use of thinning scissors might cause damage or kind of ruin your hairstyle. Luckily, if you mess it up, don't worry. It's just hair. It'll grow back, I promise, so the damage won't exactly be permanent.
The case might be different if you visit the same bad hairstylist again and again. Still, it's unlikely that your hair will suffer from irreparable damage if the stylist at least understands what they are doing. And if they know how to use the scissors, then it's probably totally fine. 
There have been several debates on whether thinning scissors are good or not. For the most part, I'd say they are good — but only in the hands of an expert who knows how to dig through your thick hair.
A wide range of variables influences the overall health of your hair, such as:
Your genetics

Your environment

Your lifestyle

Your diet
Hair that is younger and healthier is often thicker and grows quickly. Conversely, the progressively thinner hair that sprouts from our heads as we age is more difficult to re-grow, especially following any hair loss. All of this is true, but what if you want to experiment with your hair?
When it comes to thinning scissors, the most common concern people have is, "Will thinning scissors harm my hair?" And, well, if you have shaved or trimmed with regular blades, then you're more than prepared to work with a good pair of thinning scissors. 
A few important things to keep in mind when working with thinning shears are listed below:
Find the right pair of thinning scissors.

There is no point in buying finishing scissors, as they are designed to make the finishing touches only a hairstylist knows how to do. You're better off investing in regular blending scissors, which will do the job just as well.

Beveled and convex blades are your best friends.

The beveled blades have a somewhat flat cutting edge and don't need to be sharpened as often as convex blades. The convex blade has a slightly curved edge to make the cutting edge sharper, but at the same time, it requires more maintenance. Opt for beveled blades, as they require minimal maintenance.

Don't overuse thinning shears!

In this case, more is not always better. Wider-toothed shears, in particular, can lob off huge chunks of hair in a jiffy. I also only recommend using them if you have thick hair, as using them if your hair is already thin can result in a hair-tastrophe.

Dry your hair before using thinning scissors.

This way, you'll be able to see what you're doing and which portion needs more care. Avoid using thinning scissors when your hair is damp, as it'll be more vulnerable to splitting and breakage. Furthermore, you won't be able to judge the

length of your hair

if it's still wet. 
How to Make Your Thinning Scissors Last Longer
Whether it's thinning scissors or a sports car, the formula is quite simple – the more you care for an item, the longer it'll last. Your scissor's lifespan and performance may be extended if you take adequate care of it.
If you've spent a good chunk of money on thinning scissors, it's only understandable that you would want one that'll last for a long time. Quality thinning scissors require special care, but keeping them in excellent condition is simpler than you may think.
If you're wondering how to take care of your thinning shears, don't worry. Let me go ahead and demonstrate the proper measures to follow while caring for your thinning scissors, as well as explain any typical mistakes that can arise during use and maintenance. That way, you can know to avoid them if you want to improve their lifespan.
Most high-quality scissors are composed of stainless steel or an alloy of steel and chromium, making them less prone to rusting. Corrosion can form if they are covered with hair, hair gels, moisture, or any kind of chemical residue, though. In order to avoid this from happening, it's

essential to wash your scissors

immediately after every use.

A

thin layer of oil will preserve the scissor

by aiding in preventing moisture accumulation. Don't use just any oil, however, as only

scissor oils

should be used for lubrication. By oiling your scissors, you'll be able to safeguard them against chemical deterioration and consequently improve their lifespan.

Use

thinning scissors for specific tasks

only. People often start cutting pieces of cloth or paper with thinning scissors, thinking they're a

multitasking tool

, which only decreases its lifespan. Fumbling through a cut indicates that the scissors' blades are not powerful enough to complete the work at hand, and pushing them may result in severe edge damage. Each scissor has its purpose, so use them carefully.

Lastly, sharpening your scissors may sound like a good idea every now and then, but in reality, the saying, "If it's not broken, then don't fix it," applies in this case. Frequently sharpening the scissors will reduce their lifespan. I recommend you

sharpen your scissors once every six months

and no less. You should only ever get your scissors sharpened by a

reliable professional

that specializes in scissor repairs.
My Top Recommendation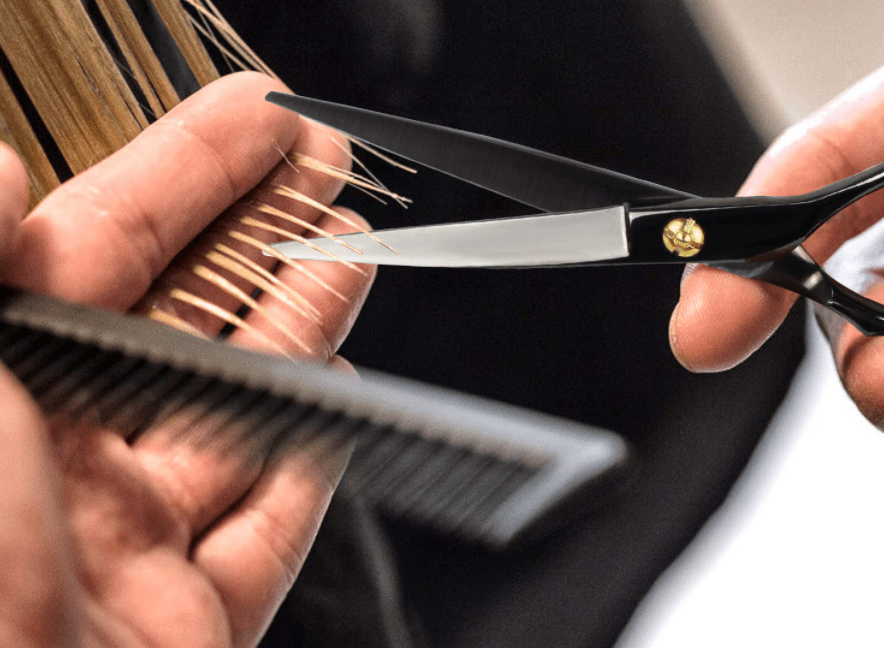 I've gone through a lot of thinning scissors in this article. Every thinning scissor on this list has its benefits, but if I had to pick one, I'd choose the elegant "Sirabe's Thinning Scissors." They have everything you can ask for at a reasonable price. 
Made using 420 Japanese stainless steel, they'll also last you a long time. If you're a fan of the "buy it for life," mindset, these are a must for your vanity. Plus, Sirabe's thinning scissors have all the necessary features you need, from adjustable screws to shock-absorbing adhesives. 
Frequently Asked Questions
Question: Which thinning scissors are the best to buy?
Answer: As you already know, there are three types of thinning scissors: blending, finishing, and chunking scissors. If your goal is to try new haircuts or improve their texture, then go for any thinning scissors with more than 20 teeth. Blending and finishing scissors are made for this purpose. Chunking scissors, on the other hand, are made to trim thick bushes in an instant.
Question: How exactly do thinning scissors work?
Answer: Shears with two blades, one with teeth and the other without, are called "thinning shears." The small teeth on the blade can swiftly remove your hair in even chunks to help alleviate extra weight in no time. The blades are designed in such a way that they will only remove thick hair strands, providing you with a sleek look.
Question: Should thinning scissors be used on wet or dry hair?
Answer: Wet-cutting and dry-cutting are different styles of hair cutting, each with its own benefits. You may prefer a wet haircut for fine or thin hair that is straighter than most but bear in mind that the cut will be a little shorter after your hair dries.
Thinning scissors on dry hair will provide you with a refined cut since you'll always look at the finished product while your hair is being cut. Both have their advantages and disadvantages, but I lean towards the dry cut!
Question: Are thinning scissors safe to use?
Answer: Thinning scissors are just like any other tool, so use them with caution. Hairstyling procedures (such as razoring, thinning, and texturizing) are used to get the look you and your hairdresser aim to accomplish together. Thinning and regular cutting scissors are very similar, and if your hairstylist knows how to use them, you're probably in good hands.
Question: How do thinning scissors differ from regular cutting scissors?
Answer: Regular cutting scissors are the most basic tool that you'll find in every salon. These may come with different handles, grips, or sizes, but they have one sole purpose. And that purpose is to give you a good haircut.
Thinning scissors, on the other hand, are similar to conventional shears, but they have teeth on only one side of the blade. This is helpful if you have very thick hair and want to reduce its density without losing the style.
Question: How often should you oil your scissors?
Answer: If you use it every other day, you should lubricate your scissors at the pivot point at least once a week. Otherwise, if you use thinning scissors only a few times a month, you can oil it every other month.
My Final Thoughts
It can be challenging for customers to find their way around the hairstyling market, especially since there are so many brands to choose from. Plus, many hairstyling tools tend to require advanced expertise, further making it even harder to find the right product for your needs. 
No doubt, it can be super overwhelming, which is why I was so careful in choosing the best ones available. After all, the importance of a good pair of thinning scissors cannot be overstated, regardless of whether you're a barber or a DIY enthusiast. 
Even though the work itself is simple, having the right tools in your hands can make life a lot easier and safer. And whether you're a haircutting novice or you're an old pro, I hope you're finally able to craft the amazing hairstyle you've always wanted!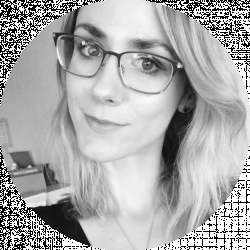 Latest posts by Karyl Trejo
(see all)