Braids are unarguably one of the oldest hairstyles seen in mankind. They carry significant historical ties with many people across the globe, and wearing them can be not only a form of unique self-expression but also of cultural identity. 
In addition to their cultural significance, braids are also a super fun way to upgrade your hairstyle and even better? They can also help save yourself from a bad hair day, too. They effectively keep hair out of the way, whether you are cooking, exercising, or simply need to look more put together.
French braids are considered the gold standard in achieving that chic look with braids. It's a kind of hairstyle that says, "See, I made an effort, but not too much," since not everyone can easily do it.
Stylish enough for a festival or a formal party, it can be left on its own, or accessorized with flowers, rolled into a bun, pinned with a pretty hair brooch… the possibilities are endless!
The style looks fantastic with all hair colors and is extra-flattering on hair with highlights, too. However, if you're looking for a little something extra, the Dutch braid is for you. This intricate-looking (but deceivingly simple to do!) cousin of the French braid will give you pretty hair vibes in a fresh new way.
This article will help you compare the two kinds of braids and find out what works best for you. 
Main Differences Between Dutch Braid vs French Braid
You should see the Dutch braid as a modified or inverted French braid, just like the flags of those countries. The difference in technique only lies in the way you weave it, the French on top, the Dutch on the bottom. Once you learn how to make one, the other will become a piece of cake.
Both are simple. But if you can do them well, they can look really sophisticated. With practice, you can make your own hair or others' hair look beautiful and stunning.
Feel free to do both the French and Dutch versions, make sure to use accessories you desire, add some extensions for length, double them, and most importantly? Have a lot of fun getting the perfect look for you.
Despite having many similarities, there are a few notable differences between a Dutch braid and a French braid. The Main Differences Between Dutch Braid and French Braid are:
The crossing of the strands. French braids are done with strands being crossed over, whereas the Dutch braid does the opposite; it crosses strands under. This technique produces a somewhat "inside-out effect," which is why a Dutch braid hairstyle is sometimes called a reverse French braid.

The volume of the braids. Dutch braids have more volume than French braids, which are generally tighter (unless intentionally teased).

The style of the braids. Dutch braids lean on the trendy side and look much more modern, whereas the French braid looks more classic. 
What Is The French Braid?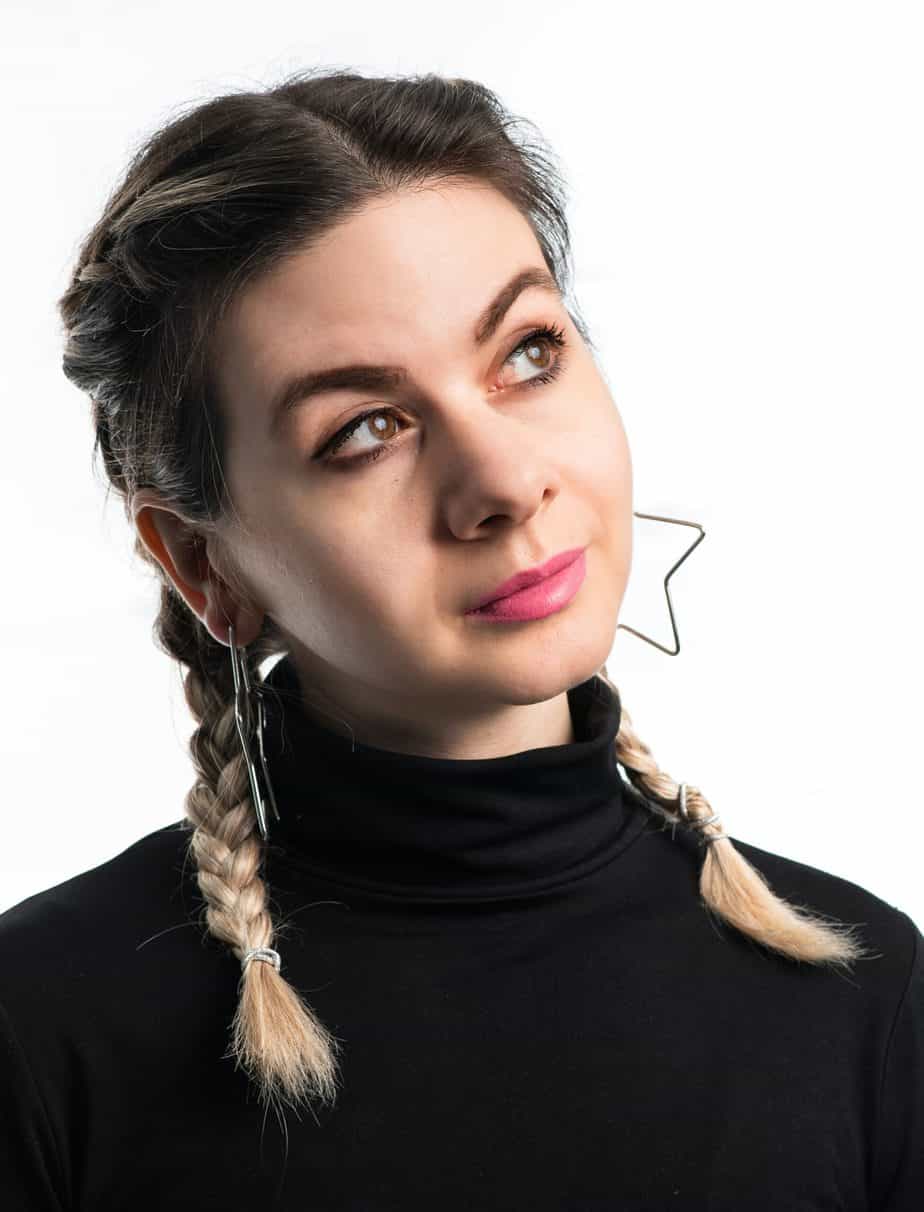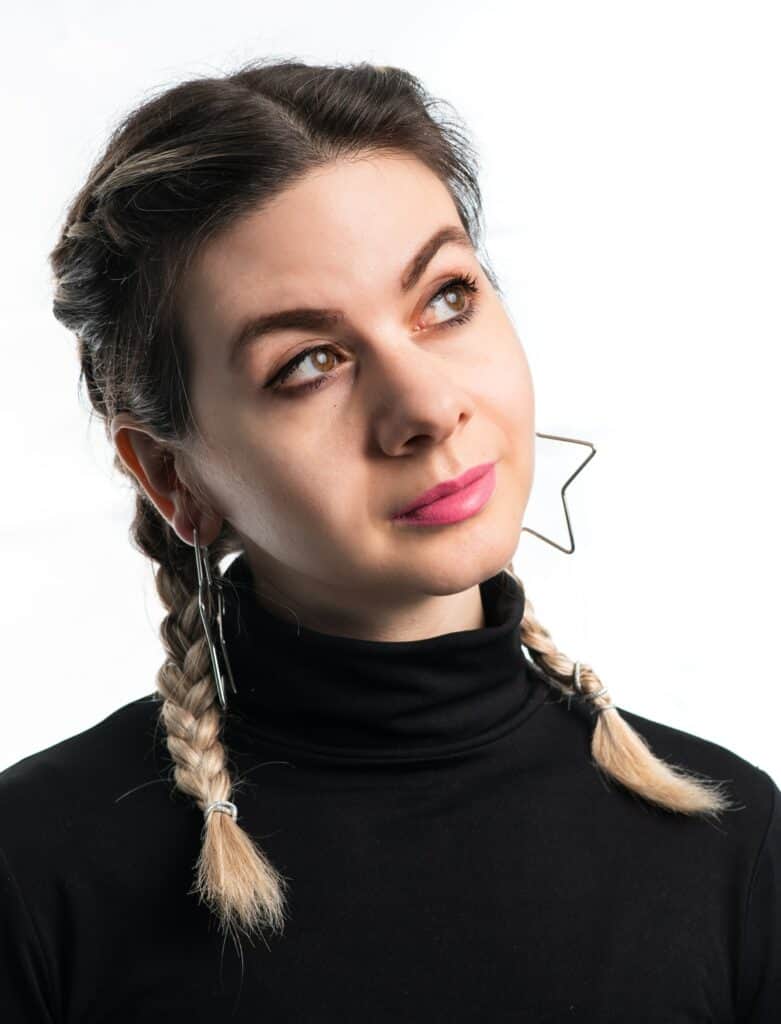 The timeless French braid is done with both a single braid and a double braid, commonly starting from the crown down to the nape. It is different from a regular braid, as it involves weaving the hair in small sections within your three main strands. This is what gives it a waterfall-like effect to your hairstyle.
The classic result usually involves all the hair at the bottom held together by an elastic. Of course, you can vary it up to your own preferences, though.
For example, you could do only half of your hair and show off its length. You can even make it as tight or as loose as you want. It is a highly versatile and very customizable style.
What About The Dutch Braid?
Similar to the French braid, you can use the Dutch braid individually or do a double dutch braid. The doubles form the famous box braids. The method is the same. But it's supposed to look slightly different. 
Rather than being like a flowing waterfall down your neck, it looks similar to a floating braid with tightly woven sections of hair underneath. A refreshing, exotic, and unique style, it is incredible how only small variations of the same technique can lead to so much versatility.
Similarities Between a Dutch Braid and a French Braid
Just as there are a few key differences between these two types of braids, there are also quite a few similarities, too. These include:
The placement. Both French and Dutch braids begin at the crown of the head instead of pigtails that start at the nape.

The weave. Both of these styles pick up hair at the other side before crossing under or over to secure the braid.

The versatility. These kinds of braids can be worn virtually anywhere, like a bun, a ponytail, half-up, with or without hair accessories. A simple hair elastic will do, as well, for securing it in place. 
The Dutch Braid: A Closer Look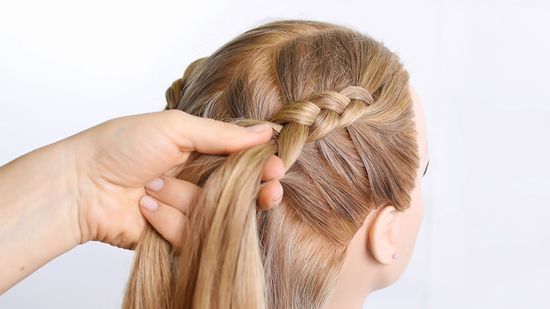 So you decided to do a Dutch braid. Excellent choice! Just one question, though: how do you actually do it?
First, you need to gently brush or comb the hair to get all of the tangles out. Now is also the best time to apply a hair serum, if you like, to make sure everything is smooth before braiding.
This will help make your hair softer and easier to manage, and it can also help prevent frizz and flyaways, especially if you have curly hair.
Next, you'll want to get a section of your hair from your crown and divide it into three equal, smaller sections. Hold two sections by one hand and the other section by the other hand. 
Here comes the fun part. Now you'll do the actual braiding. Start by crossing the left strand underneath so that it becomes the new middle section. Remember to always cross under throughout the whole process. Repeat with the other section. 
Before you cross the other sections:
Remember to pick up new strands of hair to secure the braid, then cross it under to become the new middle section.

Do the same with the other section.

Continue doing such until you reach the nape, then do a regular braid.

Tie the ends, and you now have a Dutch braid.
Pro Tip: Aside from using hair products like hair oils or tonics when making braids, a rat-tail comb will also help you a lot when it comes to sectioning your hair. 
The Pros of a Dutch Braid
There numerous benefits to rocking a Dutch braid, from elevating your style to making it easier to keep it out of your face. Some of the pros of doing Dutch braids in your hair include:
It spices up your hairstyle. Its 3D effect gives you volume even if you have a shorter hair length. It adds intrigue to your hair because it is almost like a French braid, but kind of different still. 

It adds to your hair braiding skillset. Now, French braiding is not a braid everyone can do (but given time and practice, others can), so learning how to do another kind of braid, the Dutch braid, means you have leveled up your hairstyling game.

It adds an element of effortless chic to your style. It's perfect for the tousled, slightly messy look.

It leaves you with

bouncy waves

when untangled. So much for

curling irons

! Just give it a toss, some hairspray here and there, and you're ready to go.
The Cons of a Dutch Braid
Of course, with all of the perks of the Dutch braid, there are also a few downsides to them. Don't let these turn you off from trying this look, though! The cons of doing a Dutch braid include:
It's easier for hair strands to fall off and stray. The Dutch braid tends to become a messy hairstyle over time (particularly if you don't redo it). Physical activities may cause this braid to be unraveled in some places. 

It's incredibly similar to the French braid. It's kind of tricky not to confuse its technique with a French braid during the process of braiding, mainly if you are used to the latter. 

There's a learning curve. It takes quite some practice to master this hairstyle, for example, to not make the braid crooked, and make sure all hair strands are secured in the braid. You don't want some stray wisps to be left behind.
How To Do a French Braid on Your Hair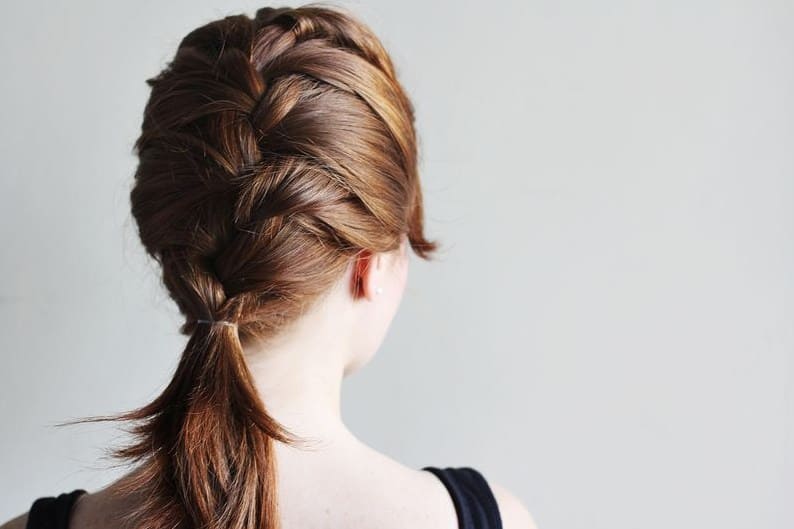 If it happens that you don't know how to do the French braid — or you have learned the Dutch braid first — don't worry. You can still master this braided style with relative ease. Here's how you can do it:
First, brush out all the tangles from your hair. You can add hair products (optional) to keep it smooth and tamed when you do the braid. 

Next, gather a section from the crown of your head; separate this into three sections. 

Now cross over one section to the middle section such that it becomes the new middle section. Do the same with the other side section. 

Gather more hair each time you cross over from each of the side sections to secure your braid in place. Continue gathering hair each time you cross over until you reach the nape, and finish with a regular braid. 
You should have a sleek, classic French braid by now.
The Pros of Doing a French Braid
Just like Dutch braids have tons of fun advantages for giving them a try, so do French braids. The pros of doing a French braid include:
You can't go wrong with it. It's an easy and timeless way to look chic.

It's low fuss and low maintenance. It's great for keeping most of your hair in place, mainly when doing sports activities.

You can do a

on

more easily.

It's incredibly versatile. One can have a French braid at the beach or a hotel and look great all the same.

It's two hairstyles in one. Undoing a French braid gives you lovely curls that hold their own even after a few hours. Just spritz on a hair spray, and you've got another gorgeous hairstyle.
The Cons of Doing a French Braid
Of course, for all the awesome perks of doing a French braid in your hair, there are also a couple of downsides, too. These are:
It takes practice to braid. The technique of gathering hair to make the braid stay in place and its position (at the crown) makes it a challenge, especially if you are learning how to braid your own hair.

It can look unruly. Like the Dutch braid, it also highlights baby hairs and needs some practice to be done, whether you're doing it to someone or to yourself.

It lacks volume on its own. That said, it can be teased to the desired volume.
Other Versions of the Dutch Braid and French Braid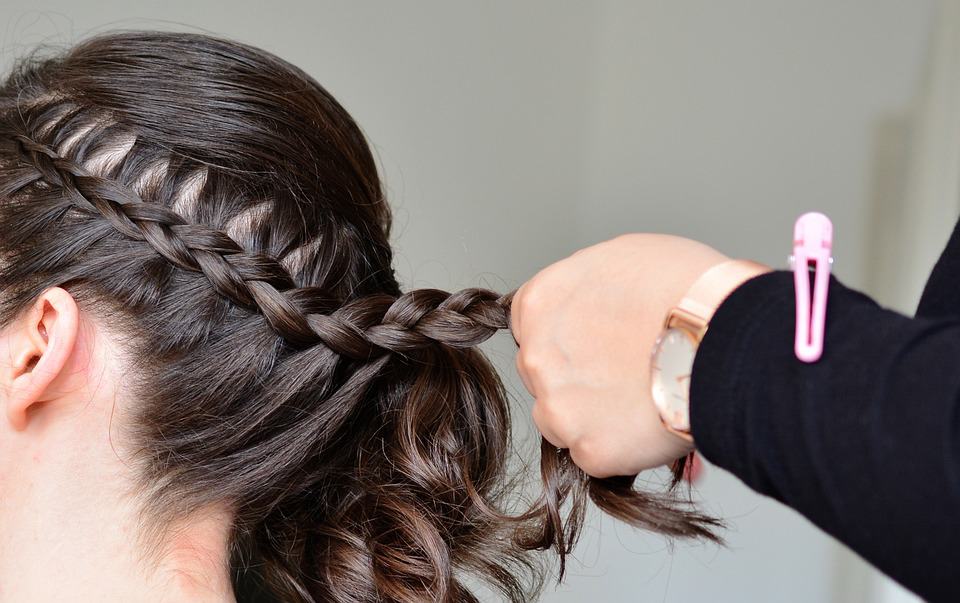 Now, being familiar with these two kinds of braids, you can opt to make double Dutch braids for each side of your head or a double French braid. You can join the double braids at your nape, too! 
Just remember not to mix up the two kinds of braids, or you will end up with a half-Dutch, half-French braid that is nowhere as flattering as any of the two hairstyles. This happens when you learn the French braid before the Dutch braid (or vice versa) and unknowingly go under, then over when braiding. Focus on the style you want to achieve to prevent such a styling disaster.
Leveling Up from the Dutch Braid and French Braid
Once you master these two kinds of braids, you can try other braids such as the fishtail braid, the milkmaid braid, the rope braid, and the lattice braid, among others. These styles will make your look more interesting without having to do much. 
Frequently Asked Questions
Question: What is the difference between the Dutch Braid and the French braid? 
Answer: Dutch braiding can be considered a sister technique to French braiding. The only essential difference between the two is that in French braiding, the outer strands are tucked under the middle strand, while in Dutch braiding, the outer strands are tied over the middle strand. This leads to the French braid looking more cohesive with the rest of your hair, while Dutch braids stand out more. 
Question: Is French braiding hard to do?
Answer: French braiding is actually more similar to the classic three-strand braids than you may expect, so in our opinion, they're fairly simple to learn! You'll need a little practice since the strands tend to become confusing, but there's not much of a challenge to them other than that.
Question: Is it better to do Dutch braids with wet or dry hair?
Answer: Dutch braids are much easier to get right while your hair is wet, since it's easy to keep the strands separate. However, this is only done if you're trying to curl your hair and you'll undo the braid once your hair dries up, because keeping wet hair tied up for too long will damage it. If you're going to keep the braid for the rest of the day, make sure that you do it on dry hair.
Question: Are French braids bad for your hair?
Answer: As long as you don't braid your hair while it's wet, or braid it too tight, then no, French braids won't harm your hair! If you are planning to wear french braids regularly, they may lead to some amount of damage. Try switching between hairstyles or keep your hair braided only for a short period of time. 
Final Verdict
Both Dutch and French braids are fabulous yet straightforward ways to style your hair, all without the need for a lot of hair styling tools. You don't need to go to a salon to get these styles, just someone willing to do it for you. Or, if you have a lot of time, you can even do it to your own hair by yourself. 
It might take some practice to do these two kinds of braids perfectly, but you only have your creativity as your limit once you got the hang of it. You can have braided sleek buns or messy ones or accessorize with a brooch. You can add a scarf to the braid for an interesting texture. Switch up your hairstyle anytime using one braid or the other and help others look fabulous too.
Another good thing about both braids is that they are suitable for all hair types and textures and can also serve as a base hairstyle for other creative styling ideas. Nevertheless, both braids can be an easy go-to hairstyle for women of all ages. So what are you waiting for? Try these hairstyles out today. Who knows? You just may find your new favorite, go-to 'do!
Looking for more interesting readings? Check out: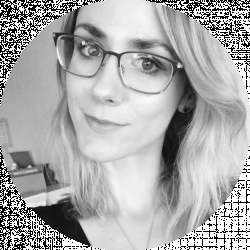 Latest posts by Karyl Trejo
(see all)