Oh man, emo hair. I remember when the trend started (I'm giving away my age). Even though I'm a heavy metal girl at heart, I did have a soft spot for My Chemical Romance, From First to Last, and The Used (though I didn't like all emo bands from that era).
But the emo hair? Yep, I had that look. I also had that scene look when it emerged. No shame at all.
It's so crazy how trends come back. I used to get bullied for listening to rock and metal bands and having emo hair. Now, I see many younger people wearing MCR shirts and sporting emo hair again.
Do you want emo hair but aren't sure which look you want? I've been in that position before, so I can recommend some great emo hair looks. Read my emo hair ideas and style guide.
Bottom Line Up Front
For the woman's emo hair, I prefer fiery emo hair. Her hair is stylish but can also be low maintenance. Her bangs and layers are cut, but they aren't too short, which is a perfect haircut if you have wavy hair and don't want to straighten it all the time. Plus, this fiery red color she has is everything.
For the man's emo hair, I prefer classic emo hair. While it does take a lot to style and maintain, there's no mistaking that's the classic emo hair look.
How I Chose These Looks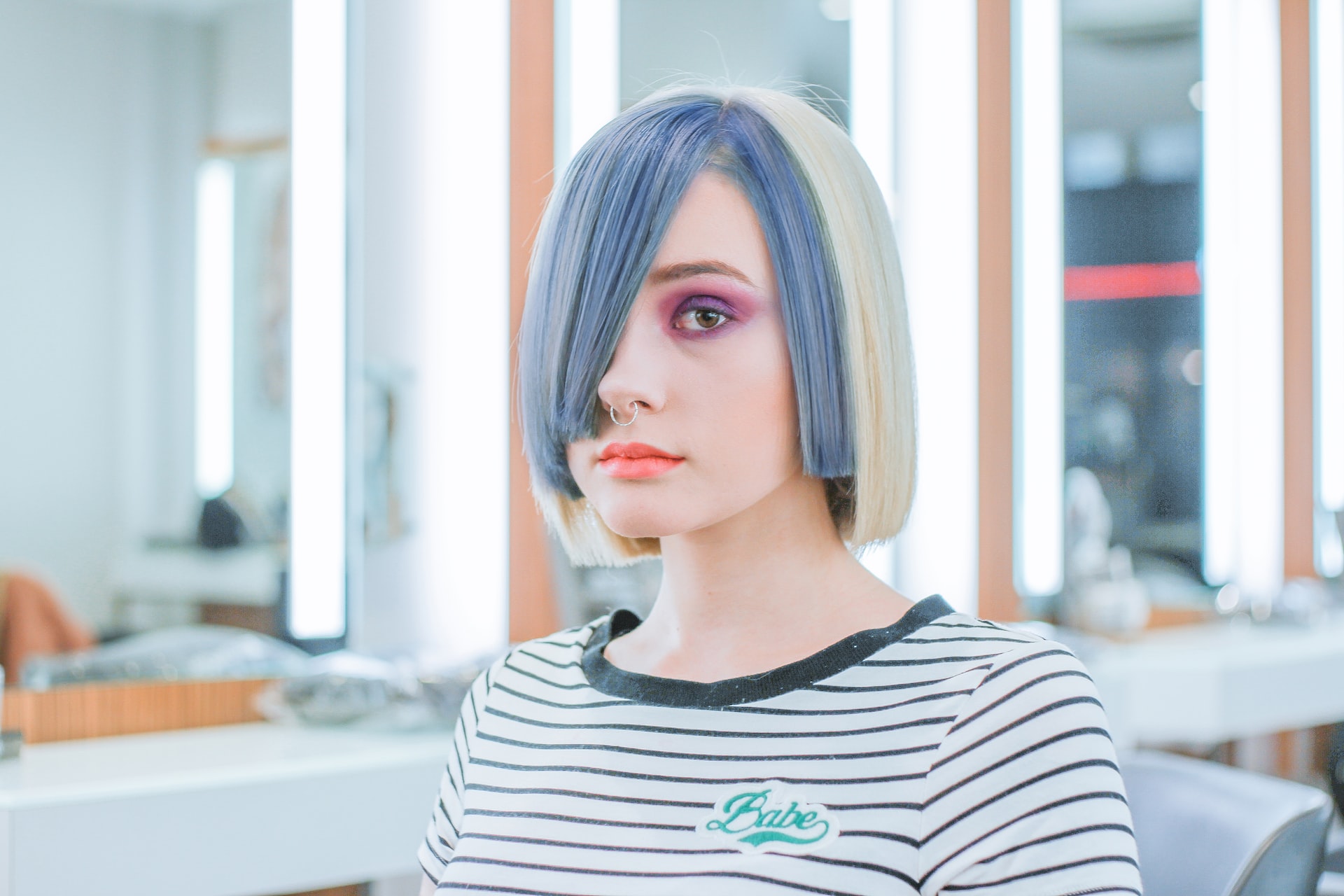 Emo hair has a specific look that can be difficult to style and maintain. For these emo hair recommendations, I identified the core components of the emo hairstyle and judged them by authenticity. If you have all or most of these, you can pull off emo hair. Keep in mind that this list applies to both men and women, though I will separate emo hair by gender in the next section.
Bangs
The side-swept bangs are an integral part of the emo hair look. Some people do an exaggerated side-swept bang that falls across the forehead, while others do a subtle one (that was the hair I used to have). Keep in mind that you will likely need to cut your bangs to achieve this look, specifically cutting and styling your hair to have a deep side part.
Layers
Layers emerged more with the scene look, but I still saw them frequently when emo hair took over. Short, choppy layers will make your hair look more voluminous. For women, the most intricate emo hair looks are poofy at the top, and the length of the hair is thin. Men can still grow out their hair and cut choppy, texturized layers.
Straight Hair
Straight hair is important to emo and scene hair since it will enhance the choppiness of your layers. That's why most of these looks require a hair straightener, even if you only have slightly wavy hair.
What if your hair is naturally really curly? Constantly straightening your hair will damage your curls. I have seen some really cute curly emo hair looks, but you should have more emphasis on the chopper layers and shorter bangs. The length of the hair should still be as thin as possible. This way, you can still see the sharpness of the short bangs and layers against the length of your hair.
Volume
Emo hair has a lot of volume. That's why I found voluminous emo and scene hair.
Even with the choppy layers, you'll have to style your hair for volume and use different products to achieve the look you want. There are a couple of ways to achieve this, backcombing being the most popular. Backcombing is a technique where you comb the hair backward, toward the roots.
When I had emo hair, I never backcombed. Backcombing causes a lot of breakage and I didn't like how my hair felt after backcombing it. I would use volumizing products on my layers and blow dry my hair by lifting the layers and drying them underneath. I'm fortunate to have thick hair, so I was able to achieve voluminous locks this way. If your hair is thin and flat, you may need to backcomb.
Color
You can find emo hair in all colors, but I did try and include diversity here. I included some natural hair colors for those who can't or don't like to dye their hair. There are also many bright and unnatural colors on this list. I prefer darker hair colors, so I always had black emo hair.
Accessories
This is also optional and is something that's more popular among women with emo hair compared to men. You may need some bobby pins for different reasons, such as to force a side part. Instead of a bobby pin, you can use a cute barrette. Bows and animal ears are also popular accessories for emo hair.
Emo Hair Ideas for Women
Emo hair is popular among both men and women. Here are some of my favorite emo hair ideas for women.
I love the fiery red hair color that this model has. The color is orange on her roots and turns bright red at the length of her hair. If you're like me and prefer darker hair, you can achieve a similar look with cherry cola or a darker shade of red.
Her hairstyle is also easy to maintain. Her bangs and layers are short, but her hair is wavy. This proves your hair doesn't have to be straight to look emo. I also like how her bangs aren't swept across her forehead, they're just cut short at the sides. That's how I styled my hair. Credit: @alainasixx.
Let's face it — emo hair is a lot to style and maintain. That's one of the reasons why I grew out my bangs and layers, I prefer putting a little texturizing spray in my hair and calling it a day. But this look is cute and proves you can achieve great emo hair, even on lazy days.
The model's hair is long and black, the way my emo hair was when I had this look. Her layers are tied up in a bun on top of her head. It's a creative look but still easy to do. I actually tried this hairstyle on my hair, and it looks so cute! I don't like washing my hair every day, so I will try this look when I don't use dry shampoo (I usually wear a hat). Plus, this look is so easy and took me a few seconds. Credit: @mlrnzo.
I will recommend more short hairstyles when I write my emo hair for men section, but I also want to recommend a few short emo hair looks for women. I love how her hair is cut. It's a short pixie cut but is very spikey, almost pushing into mohawk territory. You can't see it, but her bangs are pushed to the side. Her hair is dark brown/black, but you can achieve this look with any hair color. Credit: @petekhair.
This is another great look if you're having a lazy emo hair day. First, I think the red and black ombre color is really pretty. It's daring but not too crazy, perfect if you're experimenting with red hair. If you don't feel like styling your emo hair, throw on a beanie or any other hat. Even though I no longer have emo hair, I still do this if I don't feel like styling my hair. Credit: @cassandra_sad_angel.
Do you want a vibrant hair color but aren't sure which one to choose? Opt for multi-colored emo hair like what this model has. Her hair reminds me of tinsel; some sections are white-blonde, while others are pink, orange, green, purple, blue, and the list goes on. In the description, the model says this is a wig. I still recommend achieving this look yourself. Credit: @chisai_cosplay.
I love how silver hair is a big trend. My grays are really coming in (again, am I giving away my age?). My colorist and I are already planning looks so I can grow out my grays, and I may show her this color.
Remember how I said I see some cute emo hair looks on curly hair? This is a great example! She still has the side-swept bangs and short layers, but she lets her natural curls loose. The curls also give her flawless and natural volume — no teasing or backcombing necessary. Credit: @antonella_rose.
This is a similar look to the previous one, but this model put her hair in pigtails. It's very difficult to tell by the picture, but you can see her pigtails if you look closely. If I was too lazy to straighten my emo hair, I always put it in pigtails. I also like her hair color — blonde on top and brown on the bottom. This ombre proves you can achieve emo hair with natural colors. Credit: @mand.y.r
The emo trend started in the early-to-mid 2000s, and those who were first there are in their 30s (*slowly raises hand*). Many OG emo hair veterans are facing a dilemma: we're a little too old to dye our hair a bunch of colors and spend hours backcombing, but we still love the look. So, what do you do?
This hair look is a great example. She still has bangs and layers, with dark hair and blonde pieces. However, her hair is sleek and healthy, with just enough volume to look bouncy. She has trendy two-toned hair, but they're natural colors. Her haircut and color are super easy to maintain and will grow beautifully.
I had a similar look once I reached my 20s, but I still had the side-parted bangs. My hair was also longer, but this is a good hair length — especially if all of the bleaching and backcombing damaged your hair. Credit: @byedyebye.
With the scene look and different trends, emo hair has evolved. But OG emo hair is still popular, and this is a great example. Her hair is dark with some light pink streaks (or extensions) at the length of her hair. Her hair isn't voluminous, but she does have side-swept bangs and short layers. The length of her hair is very long and straight. Credit: @siljedalgas.
This look takes me back to Myspace! I honestly do think this photo was taken during the 2000s. If you want another classic emo hair look but a shorter variety, I suggest this one. The bangs and layers are all swept to the side. Her hair is dark, but you can achieve any hair color with this look. Credit: @quinn_adenip.
This post is actually a throwback post, and the model no longer has emo hair (I do like the way she looks now). But looking at the throwback pictures, I like her emo hair. Her two-toned hair color looks great on her. The emo cut she has is very classic, but she can pull it off. Credit: @glamby_kymavilynn.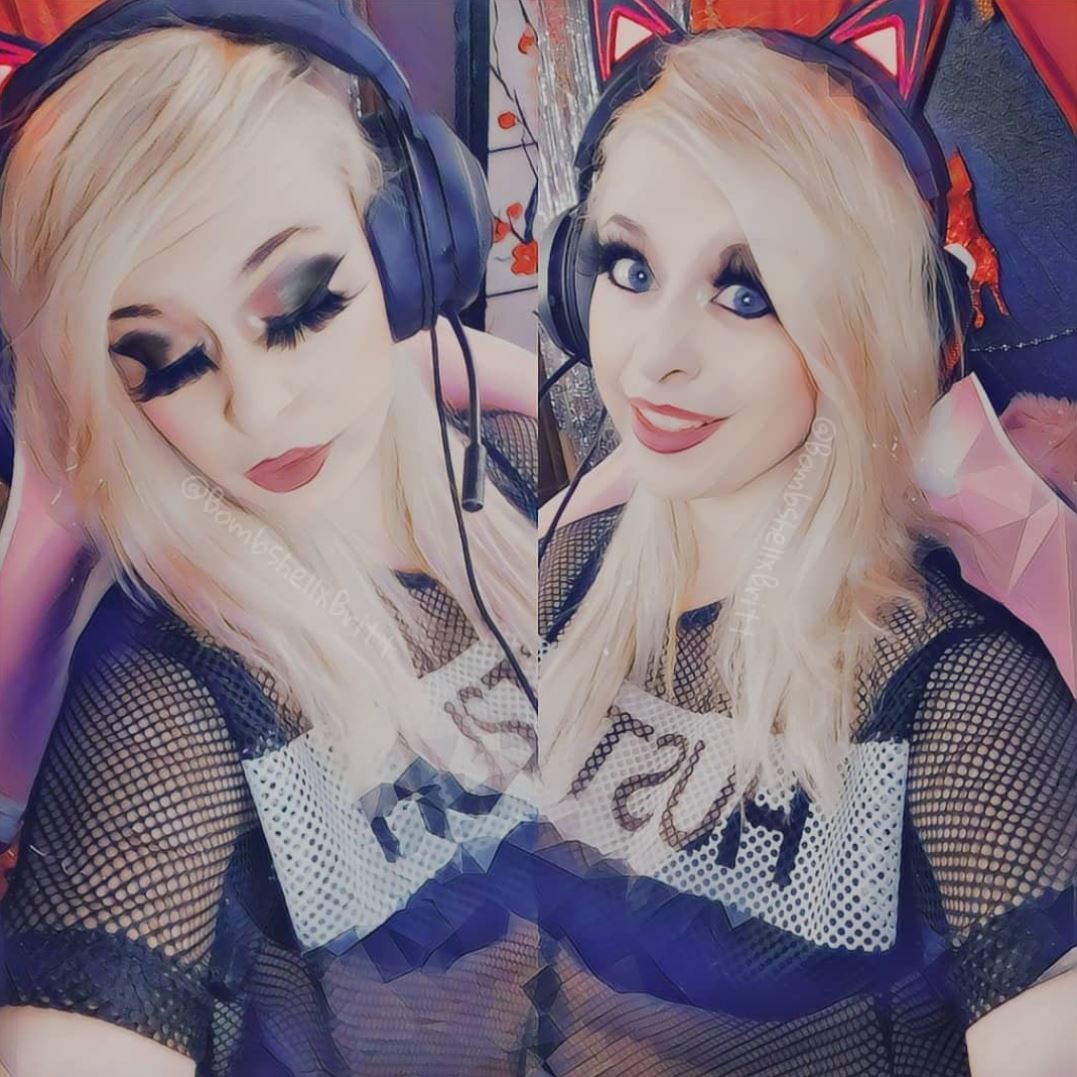 One of my good friends was also into the emo/scene look, and she was blonde. I always thought her hair looked better than mine, even though I always had classic dark emo hair. This model's hair is a perfect example of cute blonde emo hair. Her bangs are long but side-swept. And her attention-grabbing eye makeup completes the look. I also love her cat ear headphones. Credit: @bombshellxbritt.
I've said it before, and I will continue saying it — you can pull off emo hair with all hair colors. The model here has caramel-colored hair with an emo cut, and it looks awesome. She has side-swept bangs, and the caramel hair shows off the sharpness of her layers. Her hair is also straight, highlighting the choppy layers even more. Credit: @kiramans0n.
When transitioning out of my emo hair phase, I had a look like this. This is another good option if you're in my age group and still love the emo look but something a little more toned down. Her hair is still long, layered, and she has side-swept bangs. But her layers blend together a little better, and her hairstyle is simpler than emo hair. At the same time, her hair does still have a bit of an edge to it and still has tons of volume. Credit: @curfew.02.
Purple is probably my favorite unnatural hair color, and I love the model's look. Half of her hair is a beautiful eggplant purple that I would totally get. The other half is black. Her hair is curly, but she has emo side-swept bangs and sharp layers. I highly suggest recreating this look if you want to add this shade of purple to your emo hair. Credit: @mightnight._._.moon.
Both of these girls have extremely creative emo hairstyles! I absolutely love the girl with the purple hair. It's such a unique shade of purple, and it looks awesome with her emo hair. I also love the side-swept and choppy look of the other girl's hair. I definitely recommend either look if you want beautiful emo hair. Credit: @shizu_blood6.
While you should sweep your bangs to the side, I know this look doesn't work for everyone. The style of the model's bangs is a good alternative to traditional emo bangs. She has long, fringe bangs that she curls slightly to the side. She also has short layers framing her bangs, but the length of her hair is long. Credit: @leda_lox.
Emo Hair Ideas for Men
Emo hair is just as popular among men as it is among women. That's why it's important to suggest some emo hairstyles for men.
This is very classic 2000s-era emo hair. His hair is dark brown/black and is brushed to the side. His hair isn't layered, but it is very choppy with side-swept bangs. You'll have to get your hair cut and styled to look like this, but there are easier emo hair varieties. Credit: @h3ll_kn1ght.
Beanies are the ultimate men's hair tool. These little hats are the perfect solution if you're growing out your emo hair and are still in the awkward phase. If your hair is grown out, like the model's, then a beanie is still a good accessory. They keep your head warm and look stylish. Credit: @goth_boy_attempt.
I always liked the emo hair like this, where you can tell he got inspiration from 80s glam metal bands. Instead of shaggy emo hair, his hair is long but is still styled to look really voluminous. His hair still features sharp layers and is longer than typical emo hair, but this is a great look for a guy looking for mature emo hair or any musician who wants to up their stage presence. Credit: @oldschooltokiohotel.
I saw two different styles of emo hair in the 2000s: the shorter, classic version and the long shaggy version. This is a good example of the long version. His hair is all one-length, but his bangs are parted far to the side. His bangs are a little shorter than the rest of his hair length, but not too short. Credit: @alex_cryblack.
I feel this look evolved into emo hair. Jacoby Shaddix from Papa Roach had a similar haircut. His hair is relatively short, though spiked up in the back. His bangs are parted to the side; you can tell he also uses gel to hold his bangs into place. This hairstyle is a good option if you want emo hair, but your hair is still short. Credit: @oldschooltokiohotel.
Asymmetrical emo hair is more popular among women, so I appreciate how I'm finding a man with this haircut. If you don't know what asymmetrical hair is, it's when one side is longer than the other. As we can see, one side of his hair reaches his shoulders while the other only brush his ear. Credit: @zev_is_my_everything.
Unnatural colors are as popular among men as they are among women. I like the frosted blue color he has. His hair is long and parted to the side, though the back of his head is obscured by a beanie. Creative accessories, such as the elf ears he's wearing, also look great on men. Credit: @owoerick.
Don't want to dye your whole head blue? You can opt to do a two-toned color as this guy did. Half of his hair is light blue, and the other half is black. I like how he has a devil lock meet emo bangs going on, with the one long piece of hair at his bangs. His hair is swept to the side but is messy, a look that was really popular when the scene phase took over. Credit: @cyril.abk.
If you have the patience, I always preferred the way long hair looks on men. While he doesn't have traditional emo hair, you can tell his long hair is choppier, and the blonde streaks give his locks a little more oomph. His hair is pushed to the side, but I just think that's the pose he's doing. Credit: @emo_boy_madhan.
This hair isn't emo in the traditional sense, but I want to show off a look for the men who want multicolored hair. He has galaxy colors all over his head. His layers are super choppy, which coincides with the emo look. Sweep your bangs to the side, and you'll have colorful emo hair! Credit: @death_.of_._an_ai.
You don't need dark or multi-colored hair to look emo. His hair is blonde, and he has that perfect emo look. His bangs are swept to the side, but he doesn't have any choppy layers. I can also tell his hair is naturally straight. This is a good emo look if you want something low-maintenance or you're older and don't want a crazy hair look. Credit: @gilkoori.
I recommended mature emo hair looks for women in their 30s, now here's a look for men. The side-shave has been a huge hair trend for years. You can shave one side and let the other side grow longer, the way this guy has his hair. His hair is swept to the side, but it's still subtle. Credit: @dj_promotion_official.
FAQs
Question: What are emo bangs?
Answer: Emo bangs are swept to the side. You can either sweep them to the left or right, it doesn't matter.
Question: Do I need to cut my hair to get emo hair?
Answer: You don't have to, but your hair will fall into place better if you do. You can brush or comb your hair to one side to get emo hair. Or, you can part your hair to one side.
Question: How do I maintain emo hair?
Answer: Let's focus on two key factors: color and cut. For the color, refrain from washing your hair. When you do, only use color-safe hair products. Touch up the color once every few weeks. For the cut, there's not much you can do except continue trimming your hair. For the style, blow dry at an angle and part your hair while it's still wet. Use volumizing products to create a poofy look and straighten the length of your hair.
Bottom Line
For a woman's emo hair, I like the first look. Emo hair can be difficult to style and manage — I know, I've been there. But the model has her hair cut in a way that looks stylish when it's wavy or straight. Her bangs are not short but are also not side-swept, making this hair look even easier to maintain. I absolutely love her fiery red hair color, but you can achieve this look with any color.
For a man's emo hair, I prefer the classic look. While you will need to get your hair cut to achieve this look, there's no mistaking this is emo hair to the T. His hair is straight and swept to the side, a look you can achieve with a blow dryer and hair straightener. His hair has volume, but it isn't poofy; you can achieve scene hair with this look by backcombing your layers.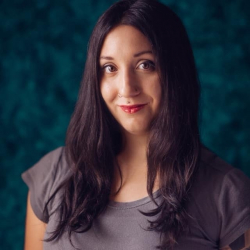 Latest posts by Stephanie Jensen, Hair Trend Spotter & Home Tester
(see all)