Is your black hair curly or frizzy, and is a flat iron the only thing that can keep it under control? Then you have to choose the very best one. That's easier said than done since flat irons embed all kinds of materials and technologies these days.
But if you have black hair–whether natural or dyed–you'll need to look for some specifics in your next flat iron. So, as a fellow curly, dark-haired gal, let me show you what makes a good flat iron for black hair and some of the top-leading products this year.
Bottom Line Upfront
I'm a natural brunette, but I've dyed my hair black for well over a decade. I don't often straighten my hair, mostly because I live in a constantly wet climate, but I brave it during the summer!
The best flat iron for my super curly, dyed-black hair is the Ghd Original Styler. I have had it since the early 2000s, and it finally kicked the dust this last summer, so I have another on my Christmas list this year!
Top Picks
Types of Flat Irons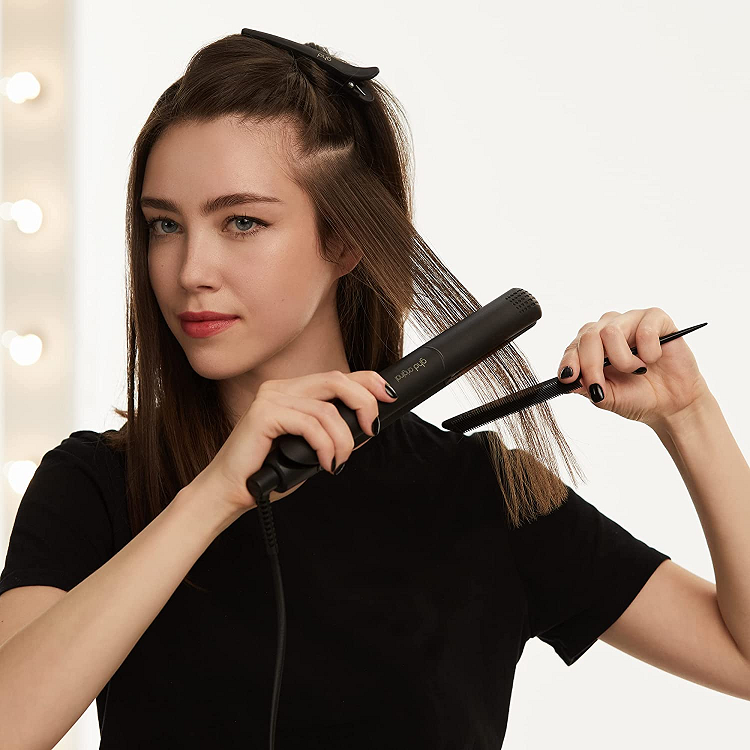 When it comes to styling your hair, the options are endless. From hot rollers and hair straighteners to blow dryers and curling irons, there are endless tools that you can use to help create the perfect look.
Ceramic
Ceramic flat irons are the most popular type of flat irons. They work best on all hair types but are especially good for those with frizzy, curly, or unruly hair. Ceramic plates emit negative ions that help to smooth the hair and tame frizz. They also heat up quickly and evenly, preventing hair damage.
Titanium
Titanium flat irons are the best choice for those with thick, coarse, or curly hair. Titanium plates conduct heat very well, so they can reach high temperatures quickly. This makes them great for straightening thick hair without damaging it. However, titanium flat irons can be too harsh for thin or delicate hair.
Tourmaline
Tourmaline is a semi-precious stone often used in jewelry and other decorative items. It is also used in some types of flat irons. Tourmaline emits negative ions that help to smooth the hair and tame frizz. It also helps to protect the hair from damage caused by heat styling.
Bio Ionic
A bio-ionic flat iron uses vibrating plates to seal moisture and protect your hair from damage. The vibrating plates are made of a unique heat-resistant material that vibrates at a very high frequency, faster than can be felt by human touch.
This vibrating motion helps to create gentle pressure on the hair strands, pushing them closer together and sealing in moisture. In addition, the vibrating plate also helps to flatten and smooth out any bumps or kinks in the hair, minimizing frizz and making for a sleek, polished look.
Wet to Dry
One of today's most popular styling tools is the wet-to-dry flat iron, which uses special venting technology to deliver high-heat performance without damaging your hair.
Unlike regular straighteners, which work best when your hair is completely dry, a wet-to-dry flat iron can be used on damp or slightly damp hair without causing damage or frizz. This special venting system works by absorbing the moisture from your hair, turning it into steam, and releasing it back to strengthen the strands.
What to Look for in a Flat Iron for Black Hair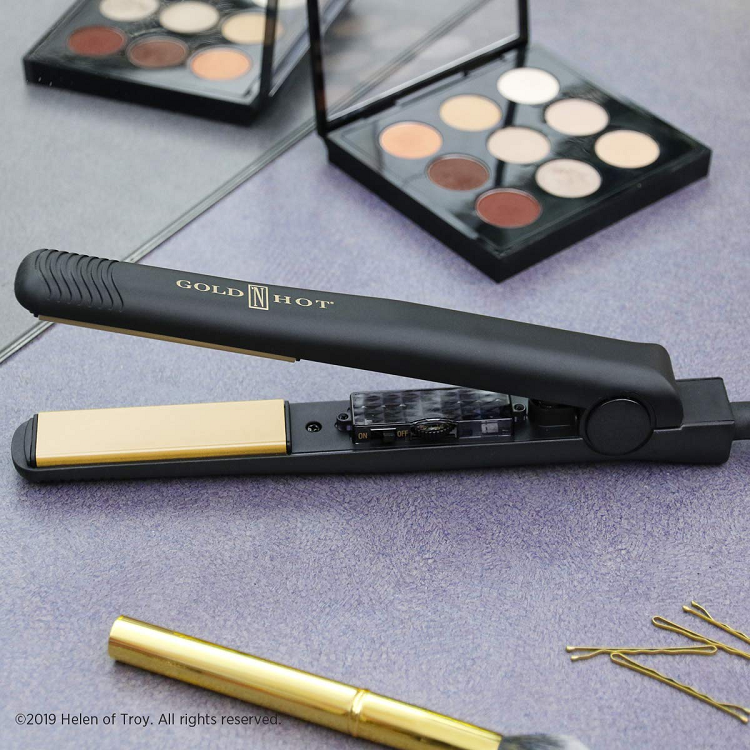 There is a lot of debate about whether or not you should buy a flat iron for your hair. Some experts argue that using a flat iron can cause serious damage to your hair, leaving it dry and brittle. However, others claim that with proper care and use, a flat iron can help you achieve beautiful, sleek locks without harming your hair at all.
So, if you have your heart set out on a flat iron for black hair, here is everything you need to know before making a purchase.
Good Closure Between Plates
Some people may prefer a flat iron with strong plate closure, as this helps to ensure that heat is evenly distributed across hair strands, resulting in faster and more efficient styling.
Other people, however, may find that too much pressure on their hair can lead to tension and damage over time so they may opt for a flat iron with less-closely-spaced plates instead.
The best strategy is to research and try out different models to find the one that best suits your style and preferences. Regardless of which option you choose, it is important to remember that high-quality tools and good care techniques are key factors in achieving healthy black hair.
Adjustable Temperature Settings
One of the most important things to look for when shopping for a flat iron is adjustable temperature settings. This is especially true when it comes to straightening black hair, which has unique challenges.
Firstly, dyed hair is more fragile and prone to breakage than other hair types. (so is curly hair, FYI *eye roll*) Secondly, having curly Afro hair makes it more difficult to achieve smooth, sleek results when using a flat iron.
For these reasons, choosing a flat iron that allows you to customize the heat level can significantly affect your straightening process's ease and effectiveness.
So, whether you're looking for a professional-quality tool that will give salon-worthy results or simply want something to use at home for fast and easy styling on your own time, always opt for an iron with adjustable temperature control.
Safety
When caring for black hair, a good flat iron is one of the most important tools. Black hair often has a unique texture that can make it difficult to style, requiring additional heat and pressure to achieve the desired look. However, using a flat iron can be tricky unless you take certain safety precautions.
For example, you should always check the temperature setting on your flat iron before using it. If you have incredibly thick or tightly coiled hair, it's best to opt for a flat iron with a lower maximum setting so you don't risk damaging your hair by overheating it.
It's important to always keep your hands as far away from the plates as possible when using a flat iron; even if it's on a low setting, holding onto the plates too long can cause serious burns.
Plate Material
When choosing a flat iron for black hair, the material of the plate is one of the most important factors you should consider. This is because different types of materials result in differing heat distribution and tension levels.
For instance, ceramic plates tend to be more level and consistent, making them ideal for thick or coarse hair. Meanwhile, titanium plates are typically thinner and faster-heating, making them perfect for finer textured hair types.
When buying a flat iron for black hair, choosing a material that will create a smooth finish without damaging your strands is essential.
Warranty
Buying a flat iron for black hair can be tricky, especially if you want to find one that will last. Many cheap irons initially seem like a good deal, but they often burn out quickly or break within a few months. This is why paying attention to the warranty that comes with any flat iron you are considering is important.
A good warranty will give you peace of mind, knowing that if anything goes wrong with your new tool, you can get it fixed or replaced free of charge. Furthermore, many quality flat irons also come with generous return policies and guarantees, ensuring that your investment will be well worth it in the long run.
A flat iron should last at least three years. I had the Ghd Original Styler for over ten years and couldn't even be mad when it crapped out.
Price Range
When buying a flat iron for black hair, price should be one of the top considerations on your list. Prices start at $30 and can go up to a few hundred dollars.
A high-quality iron can help make styling your hair much easier and less time-consuming, ensuring that you always have the sleek and silky look you desire.
However, cheaper irons are often prone to breaking down prematurely or overheating, damaging your hair and reducing the iron's effectiveness. So, when choosing a flat iron for black hair, find one that is within your price range.
Things to Consider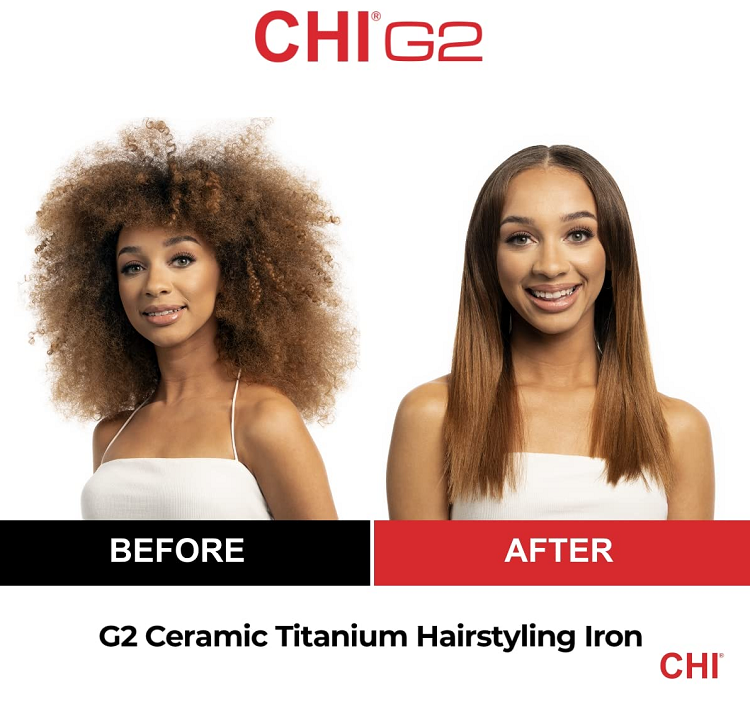 Oh, yes, it's not just about the iron itself. There are other things to think about before splurging on this device.
Hair Length
Hair length is one of the most important factors when shopping for a flat iron. A standard flat iron will do the job fine if you have short or medium-length hair. However, if you have longer hair, the options are more limited.
For this reason, it is essential to carefully consider your hair length when choosing a flat iron. Some models feature advanced temperature controls that allow you to apply heating at different intensities to minimize damage and protect your hair's natural texture.
A good flat iron is not only an essential tool for creating sleek, straight styles; it is also an investment in the health and beauty of your hair.
Hair Type
When it comes to flat irons, choosing the right one can make all the difference in how well it performs. Hair types require different flat irons to achieve a smooth and sleek style.
For example, those with thick or coarse hair will most likely need a flat iron that delivers strong heat and high levels of tension. In contrast, those with fine or thin hair may need a more gentle and temperature-controlled iron to avoid damaging their delicate strands.
Natural Black Vs Dyed Black
While many people choose a flat iron based on its features and price, it's important to remember that natural black hair varies greatly from dyed black hair in terms of how much heat it can withstand before being damaged.
With this in mind, you should always opt for a flat iron designed explicitly for natural black hair if you've colored your hair to achieve a darker shade. At the same time, choosing a quality flat iron with temperature controls and ceramic or titanium plates will ensure that your hair is protected even if it hasn't been dyed.
Titanium Vs Ceramic Plates
Titanium and ceramic are two popular options, both of which have their distinct benefits. Compared to ceramic plates, titanium plates are more durable, making them an excellent choice for users who want a durable flat iron that can withstand frequent use.
Additionally, because titanium heats up faster than ceramics, these plates make it easier to straighten hair quickly. However, titanium is more expensive than ceramic and may not work well for everyone's hair type.
Titanium plates are better for stubborn hair strands and hair that can withstand more heat. Ceramic plates are better if you have fragile hair.
Best Flat Irons for Black Hair
A flat iron may be an effective way to straighten and style your locks if you have thick, curly hair that tends to frizz easily. But if you have more delicate hair prone to breakage, it may be better to stick with less damaging techniques like blow drying or air drying. Here is a list of flat irons with a little in here for everyone.
BaBylissPRO Nano Titanium Ionic Straightening Iron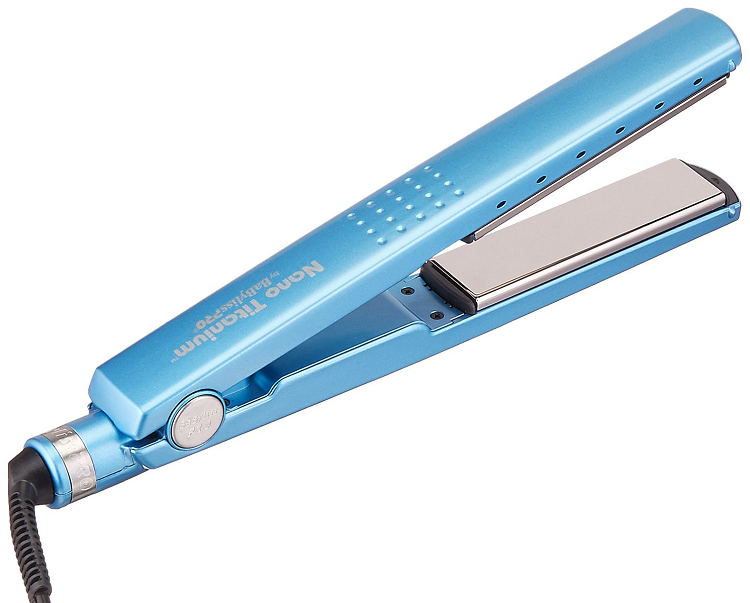 Editor's Choice
This top-of-the-line hair tool features digital ionic technology, which helps to reduce frizz and static, and LED temperature settings, which make it perfect for black hair. Plus, the titanium plates provide even heat distribution and help to seal in moisture, leaving your locks looking healthy and shiny.
Key Specs
Price Range $150 – $160
Plate Material: titanium
Max Temperatures: 450°F
Since the product description might be a little confusing, let me straighten out something (pun intended): this flat iron features ceramic heating but comes with titanium plates. That means it can reach temperatures of 450°F in less than a minute. That's pretty impressive!
Pros
Quality titanium plates
Multiple types to choose from
Fast heating
Cons
KIPOZI Travel Size Flat Iron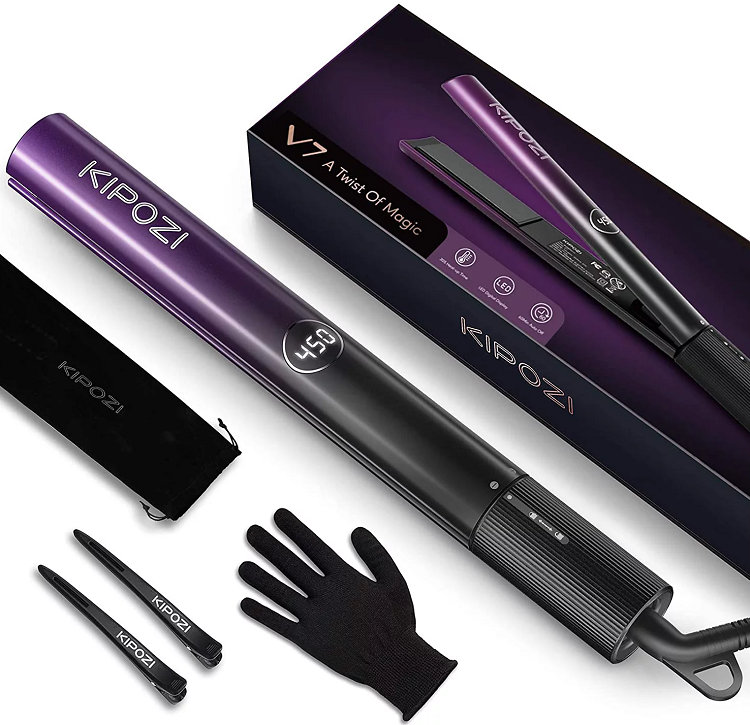 Runner Up
This innovative flat iron features 3D floating plates that allow you to curl and straighten your hair with ease, and the PTC smart temperature twist heat system ensures that you get exceptional heat transfer for fast, long-lasting results.
The KIPOZI Travel Size Flat Iron is also designed to be used as a hair curler, making it the perfect tool for creating any style you want.
Key Specs
Price Range: $30 – $40
Plate Material: titanium
Max Temperatures: not specified
If this all sounds too techy, let me explain how this translates into benefits. The compact size of the travel iron allows you to take it with you just about anywhere. The plates have great heat transfer, allowing you to straighten your hair faster.
And it takes less than 30 seconds to heat them. The small size of the plates might not be right if you have too much hair, as it will take longer to straighten it.
Pros
Fast heating
Constant temperature output
Great for travel
Cons
Prone to damage during shipping
VANESSA PRO Flat Iron Hair Straightener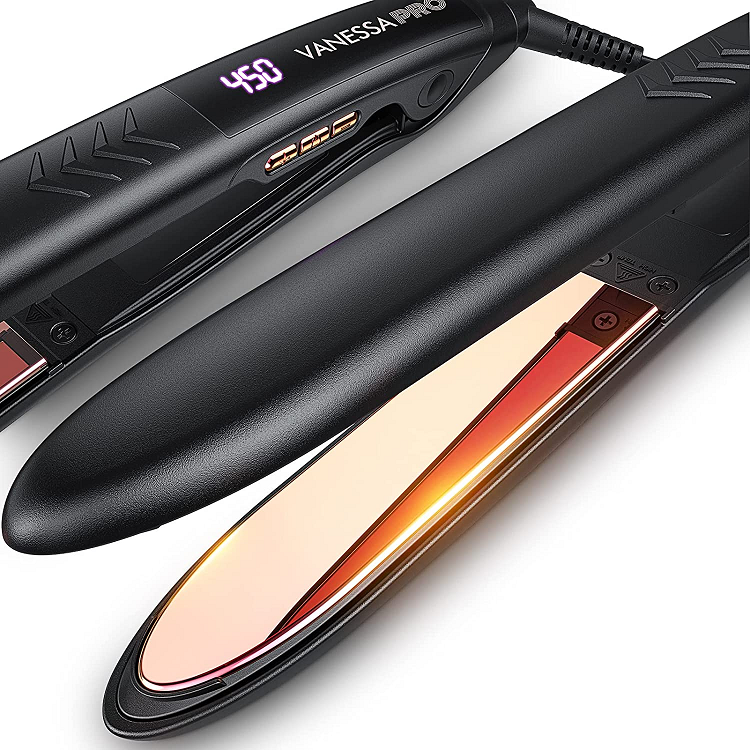 Customer's Choice
In terms of design, this has to be my favorite flat iron for black hair, and tens of thousands of customers agree with my opinion. This flat iron is perfect for all hair types.
Key Specs
Price Range: $30 – $40
Plate Material: titanium
Max Temperatures: 450°F
The titanium plates help to distribute heat evenly and prevent damage, while the sleek design makes it easy to use. The LCD temperature display ensures you can find the perfect setting for your hair, and the argan oil infusion helps keep your hair healthy and shiny.
Pros
Reaches max temperature in 15 seconds
Built for customer safety
Sleek and gorgeous design
Cons
Needs better degree increments
CHI G2 Professional Hair Straightener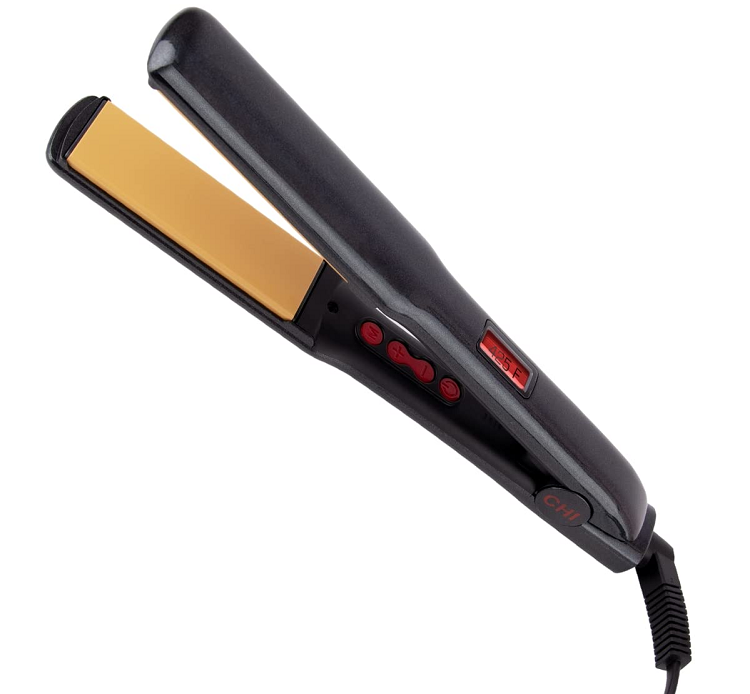 Best for Long Hair
The CHI G2 Professional Hair Straightener is perfect for anyone who wants sleek, straight hair quickly and easily. The dual voltage feature makes it perfect for travel, and the 40-second heating time means you won't have to wait long to get started.
Key Specs
Price Range: $100 – $110
Plate Material: titanium, ceramic
Max Temperatures: 425°F
This modern-looking unit brings forth ceramic plates infused with titanium, which helps them heat up quickly and evenly distribute heat throughout your hair. The ergonomic design ensures a comfortable grip, and the snag-free operation prevents snags and tangles.
Pros
Dual voltage for international travel
Digital temperature display
Fast plate heat-up
Cons
Gold N Hot Professional Ceramic Flat Iron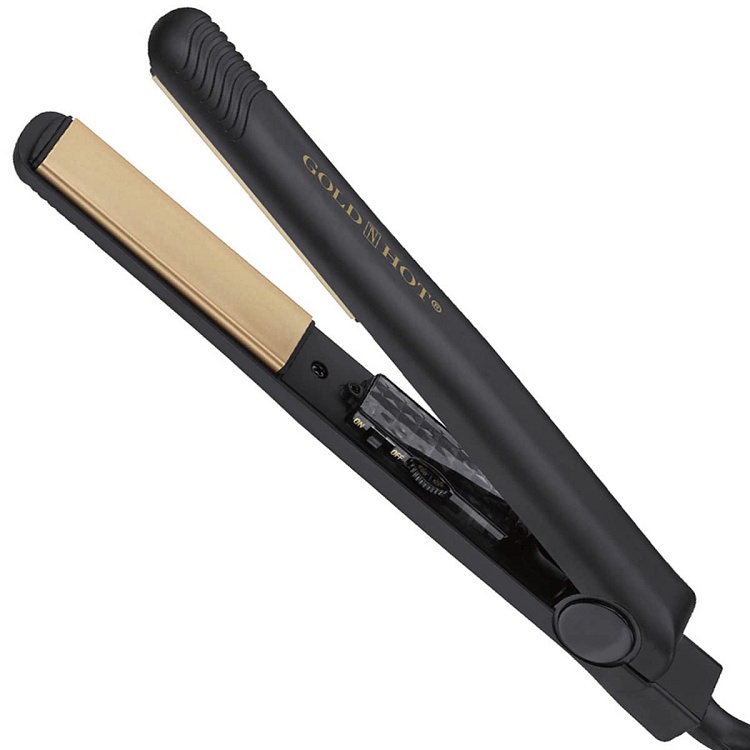 Best Ceramic
Do you share your flat iron with someone with a different type of hair? The Gold N Hot Professional Ceramic Flat Iron is perfect for all hair types. The ceramic plates distribute heat evenly, so your locks will be straight and sleek in no time.
Key Specs
Price Range: $30 – $40
Plate Material: ceramic
Max Temperatures: 450°F
Plus, this flat iron reaches the highest temperature in just one minute, so you can get on with your day. And if you need to make a quick adjustment, the easy-access controls are right at your fingertips.
Pros
User-friendly design.
Great for all hair types.
Leaves hair silky and smooth.
Cons
Takes longer to heat than other models.
BaBylissPRO Graphite Titanium Ionic Flat Iron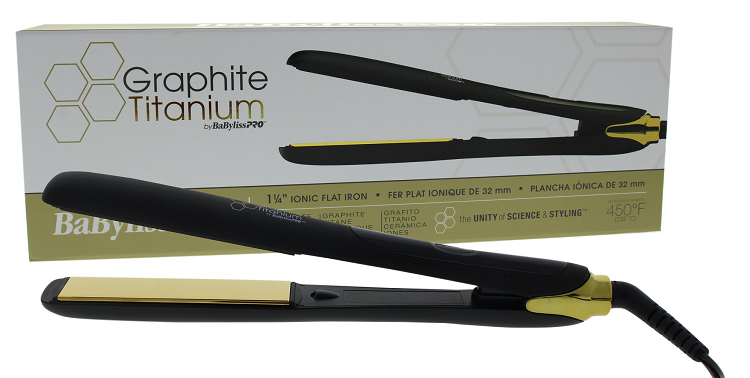 Best Overall
BaBylissPRO's Graphite Titanium Ionic Flat Iron is the best on the market. The infrared heat and graphite titanium plates make it glide through your hair, leaving it looking and feeling great. It's the type of product that's a bit more expensive but worth every penny.
Key Specs
Price Range: $150 – $160
Plate Material: titanium
Max Temperatures: 450°F
Generally speaking, BaBylissPRO is a brand I trust regarding haircare arsenal, with their products being amongst the best on the market. This flat iron caught my attention because it leaves the hair strands particularly smooth and shiny.
Pros
Durable construction
Quick heat up
Comes with a storage sleeve
Cons
Parts of this are made from plastic
Conair Double Ceramic Flat Iron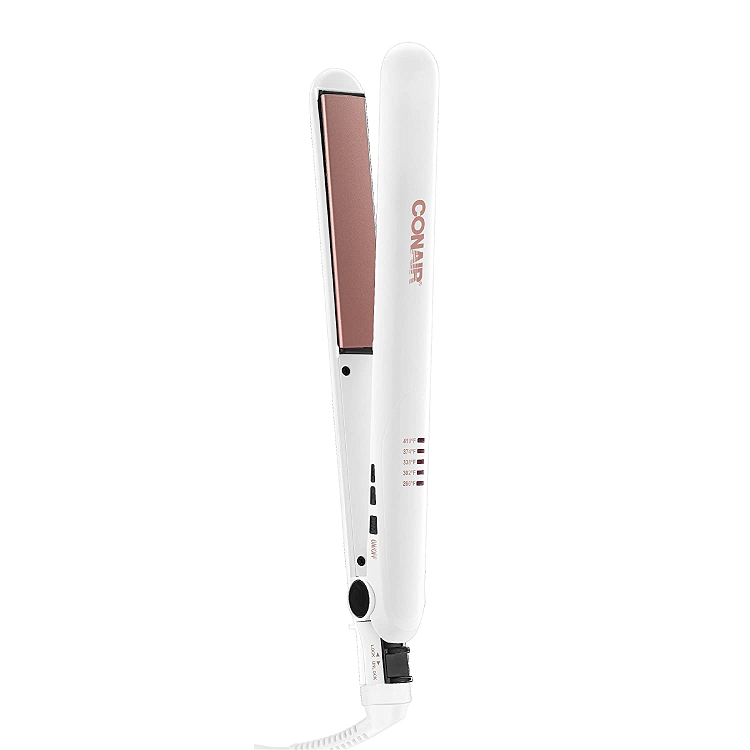 Budget Pick
Looking for a great flat iron that is both affordable and effective? This iron has double ceramic coated plates to help ensure even heat distribution and prevent damage, plus five heat settings to give you the perfect heat level for your hair.
The Conair Double Ceramic Flat Iron can also be used for curling, making it a versatile tool in your hair styling arsenal.
Key Specs
Price Range: $10 – $20
Plate Material: ceramic
Max Temperatures: 410°F
I know that hair care products can be expensive, so I wanted to add a more affordable piece to this list. It makes a great companion for those who have stubborn and frizzy hair but can't afford a more expensive model. The fact that it's white is a plus for me; I love seeing unconventional flat irons.
Pros
Five heat levels
Uniform heated plates
Gorgeous white/rose gold color combo
Cons
Needs a rubber grip for user safety
Mixcolor Hair Straightener and Curler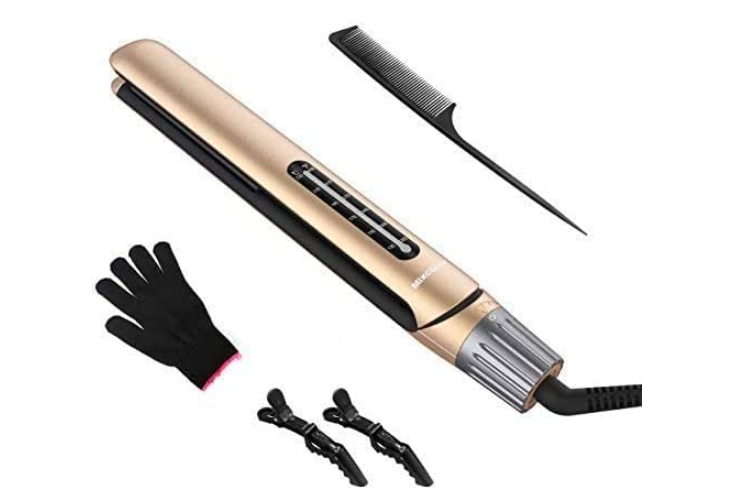 Best Hair Straightener and Curler
Do you want a flat iron but don't have hundreds of dollars to spend on one? No problem, as there are plenty of decent budget-oriented options out there, just like the Mixcolor. This product is a 2-in-1 straightener that doubles as a hair curler.
Key Specs
Price Range: $20 – $30
Plate Material: ceramic, tourmaline, titanium, nanosilver
Max Temperatures: 450°F
What confuses me about this product is how they made the plates using ceramic, tourmaline, titanium, AND nanosilver. Oh well, without questioning the technology, this seems to be quite a good product, considering how much you pay. It has some cool features, like variable temperature, a safety lock, and a 60-minute auto turnoff.
Pros
Dual voltage
High heat output
It can be used for curling
Cons
Difficult to get the right temperature setting
Ghd Original Styler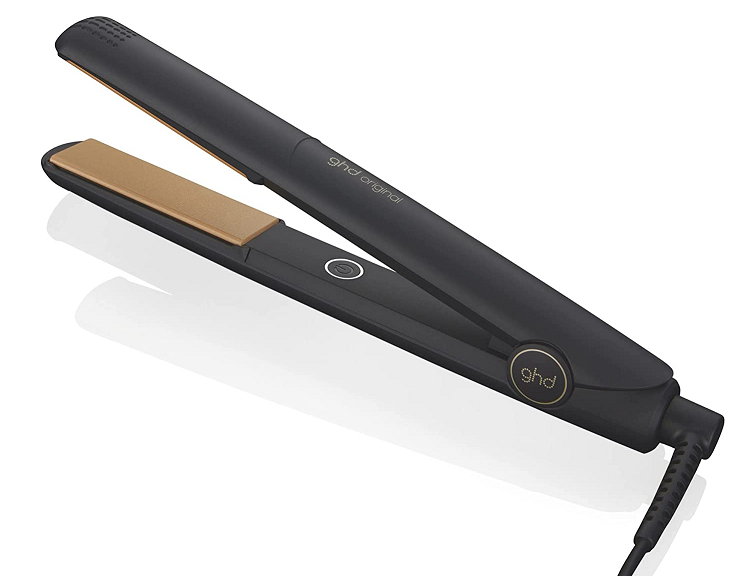 Best for Dyed Black Hair
Do you dye your hair so often it feels too fragile to handle extremely high temperatures? Then this might be the perfect hair straightener for you. Hair dye often makes the strands more fragile, so titanium plates are out of the question. Instead, the GHD uses ceramic plates that heat up to 365°F so your delicate hair doesn't break.
Key Specs
Price Range: $160 – $170
Plate Material: ceramic
Max Temperatures: 365°F
I had this same iron for years and adored it. It was perfect for my naturally curly, dyed-black hair. I love how these plates are covered with a smooth gloss coat. This translates into two benefits: the hair smoothly glides through the plates, and you end up having that nice hair sheen when you're done straightening your hair.
Pros
Smooth ceramic plate gloss coat
Can be used to make curls
Glides easily on hair strands
Cons
Only has one heat setting
FAQs
Question: What Flat Iron is Best for Natural Black Hair?
Answer: If your black hair is natural and doesn't contain any dyes, you can go with a flat iron with higher heat. That makes titanium flat irons the best option.
Question: What is the Best Temperature for a Flat Iron for Hair?
Answer: According to L'Oreal Paris experts, the best temperature for fine hair is 350°F – 375°F, while those with thick hair should heat their flat irons to 400°F – 450°F
Question: Are Flat Irons Bad for Your Hair?
Answer: When choosing a flat iron, you must be careful if you have naturally black hair. Not all flat irons are created equal; some can damage your hair more than anything. Use it carefully and always protect and dry your hair before straightening it.
Question: Is Titanium or Ceramic Flat Irons Best for Black Hair?
Answer: The hair color isn't that important. What matters is the nature of your hair and whether or not it's dyed. For example, a flat titanium iron is better if you have natural black curls. For delicate hair dyed black, it's best to go with ceramic.
In the End
When shopping for a flat iron for black hair, there are several key factors to remember. The first thing to consider is the material used in the flat iron plates.
Generally, it is best to look for models that utilize ceramic or tourmaline-infused plates. These materials are softer than metal and thus less likely to damage hair.
Additionally, they help to distribute heat evenly, so you don't have to worry about accidentally burning your fragile strands.
Regarding temperature settings, it is important to choose a model with a wide range of temperatures so you can customize your styling experience based on your specific needs, whether sealing in moisture or adding volume and bounce. Get more hair care tips and the best recs right on our site!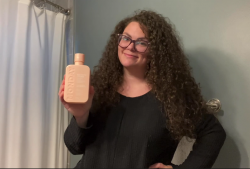 Latest posts by Candace Osmond
(see all)