Are you looking for a hair dye that will make your locks glow in the dark? If so, you're in luck! We didn't have cool stuff like this when I was a kid, so I can't wait to try these out. Many brands and types of glow-in-the-dark hair dye are on the market today, but not all of them are created equal. So, how do you find the best one for you? Well, I'll show you!
Bottom Line Upfront
Manic Panic all the way! I was so impressed with this brand's color options, ease of use, and accessibility. Not to mention the endless user reviews with pictures showing off the results. This is the brand I'll be going with, for sure.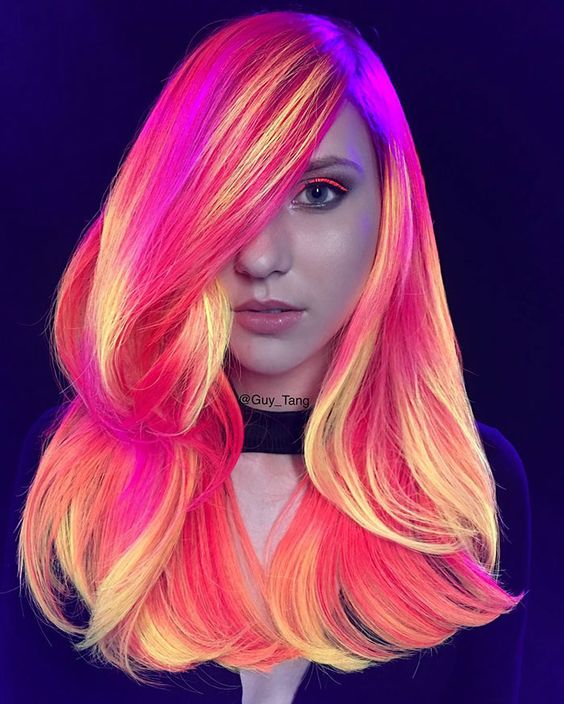 Top Picks
What Is Glow in the Dark Hair Dye?
Glow-in-the-dark hair dye is a special dye used to tint and illuminate one's hair in the dark. Cool, right? Unlike traditional hair dyes, these UV-reactive dyes absorb UV light from black lights, allowing them to glow persistently for hours on end. This makes them an ideal choice for parties, performances, festivals, and any other occasion that commonly involves UV lighting.
Furthermore, many shades are available for glow-in-the-dark hair dye, including pure white, deep red, turquoise blue, neon green, and many others. I can't wait to try them all!
Where Can You Get Glow in the Dark Hair Dye?
Shopping for glow-in-the-dark hair dye? Here is a list of retailers to help you get started:
What to Look For in a Glow in the Dark Hair Dye
They're not all created equal; each offers different pros and cons. So, read this next section with care.
Easy to Apply
While many factors may influence your decision when it comes to choosing a glow-in-the-dark hair dye, ease of application is probably one of the most important. After all, if a product is difficult to use or requires extensive preparation and downtime, you might be less likely to use it regularly or achieve optimal results.
For this reason, it is essential to carefully consider the application process associated with any given product before making your purchase.
Some dyes are highly concentrated and need to be watered down before applying; others may require several steps and products to achieve the desired level of glow.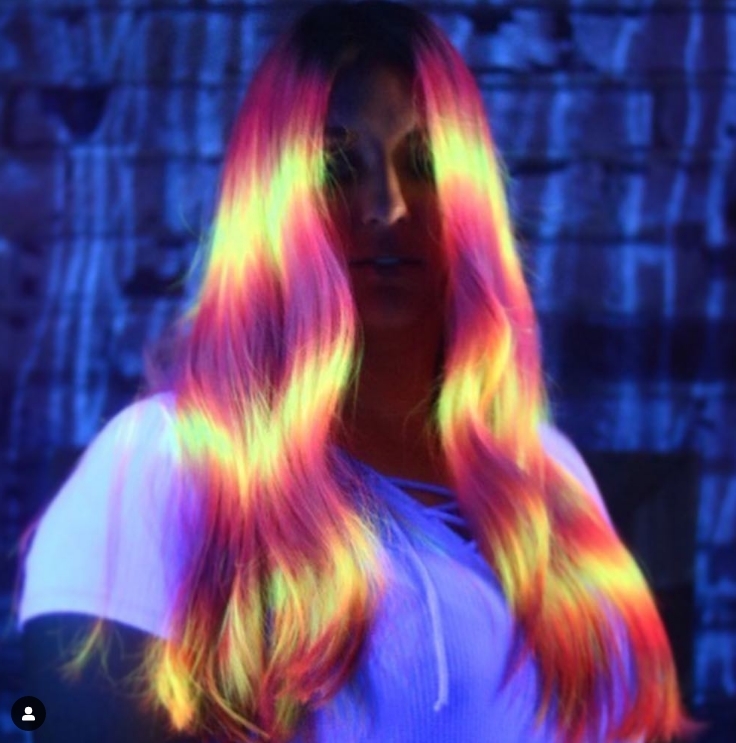 Fewer Chemicals
In today's world, there is a seemingly endless amount of hair dye options to choose from. Some products can instantly give you bold and vibrant colors, while others provide more natural and subtle hues.
But as with any other type of hair dye, there are concerns about the potential risks associated with using these products. While some believe that it is important for glow-in-the-dark dyes to be made with fewer chemicals to be safer for consumers, others argue that this is unnecessary as long as proper usage instructions are followed.
Less Odor
Glow-in-the-dark hair dye needs to have less odor. This is because having less odor is essential for increased comfort and safety when using the dye. Anyone who has used other types of hair dye can attest that these products often emit an unpleasant smell.
Not only can this smell be overpowering and unpleasant, but it can also pose a health risk if the dye is accidentally breathed in or spilled. Additionally, higher odor levels can cause discomfort and distract from the overall experience of applying glow-in-the-dark hair dye.
Price
Glow-in-the-dark hair dye has become super popular in recent years as people look for fun and unconventional ways to spice up their everyday looks. However, you should not be surprised to learn that this type of dye typically comes with a relatively high price tag compared to more traditional dyes.
Most glow-in-the-dark hair dye products cost between $15 and $20 per bottle, depending on the brand, the size of the bottle, and other factors. This dye lasts a few weeks before it starts to fade or wash out completely.
Quantity
The first step is determining how much dye you need to use glow-in-the-dark hair dye. For example, I have hair the equivalent of a female sasquatch, so I'd need quite a bit. In general, most dyes are recommended for use on short or medium-length hair, which will vary depending on the length and thickness of your hair. Sometimes, a single container might not be sufficient to dye long hair.
Most dyes come in concentrated paste form; some can mix with water to create a more diluted solution. You just need to follow the instructions to apply the dye to your hair and leave it in place for an appropriate amount of time.
Reviews
Many people rely heavily on customer reviews when purchasing a new product, such as glow-in-the-dark hair dye. I know I do when it comes to pretty much everything I buy online. Customer reviews provide valuable insight into the pros and cons of a particular product.
They can help you gauge the product's quality and see how others have used it or what types of results they have achieved. Customer reviews can be an essential asset when deciding whether or not to buy glow-in-the-dark hair dye.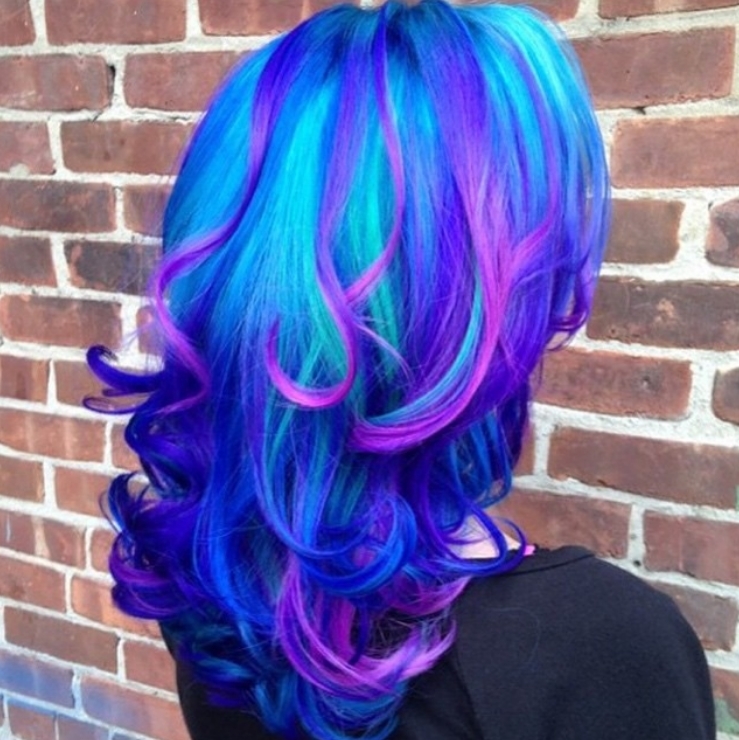 Hair Colors It Works Best on
Glow-in-the-dark hair dye works best on light-colored hair, such as blonde or platinum. This is because the dyes work by reflecting and absorbing light, so they need a pigment that readily absorbs and then re-emits light.
Generally, every type of hair dye will look best on light-colored hair. Light hair shades tend to have more of this type of pigment in their natural color, making them better candidates for glow-in-the-dark dye treatments.
But it's important to note that these dyes will typically work on any hair color as long as the right amount of light is present.
Some of the Best Glow in the Dark Hair Dye Options
I couldn't believe how many glow-in-the-dark hair dyes were available! So, I rounded up the ones I think are best but tried to include a variety of brands that offer a range in colors and prices.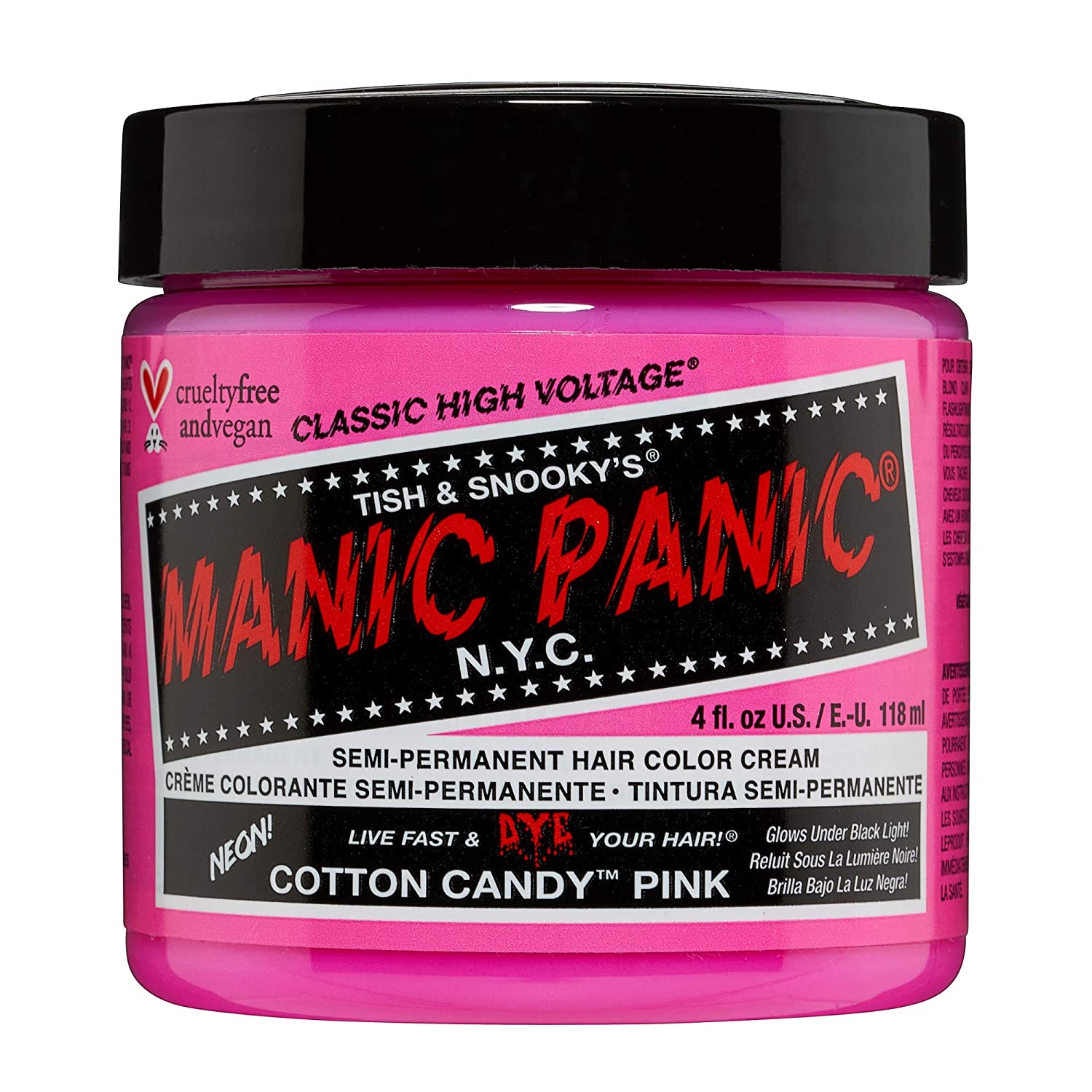 Best Overall
As I said before, there is no better glow-in-the-dark hair dye option than Manic Panic. That's because they've been around for long enough to understand their market and product, and they have a wide array of colors and shades to choose from. Color variety seems to be a problem with glow-in-the-dark hair dyes.
Specs
Price range: $10 – $20
Number of color options: 16
Type: semi-permanent
Aside from this brand's obvious quality and notoriety, I love a few other things about these dyes. First of all, it's the possibility to mix the colors. This is the brand to go with if you're looking for a bold combination. The vibrancy of these colors is also to "dye" for.
While I'm not particularly happy that these colors only last a month and a half, I found that most similar products like about the same amount of time.
Pros
Cruelty-free formula.
You can mix the colors.
Vibrant shades.
Cons
You need to lighten your hair.
I Think Manic Panic Is the Best Brand for Glow in the Dark Hair Dye
Manic Panic is one of the market's best glow-in-the-dark hair dye brands, in my opinion. So, I'm going to elaborate a bit more on it. Based in New York, this popular brand is known for its vibrant colors and bold formulations. Also, most of their colors work on dark hair, which is a bonus for me!
Whether adding a splash of neon to your hair or making a dramatic statement with darker shades, Manic Panic has you covered. With products that are easy to apply, long-lasting, and highly pigmented, this brand offers everything you need for a gorgeous, head-turning look.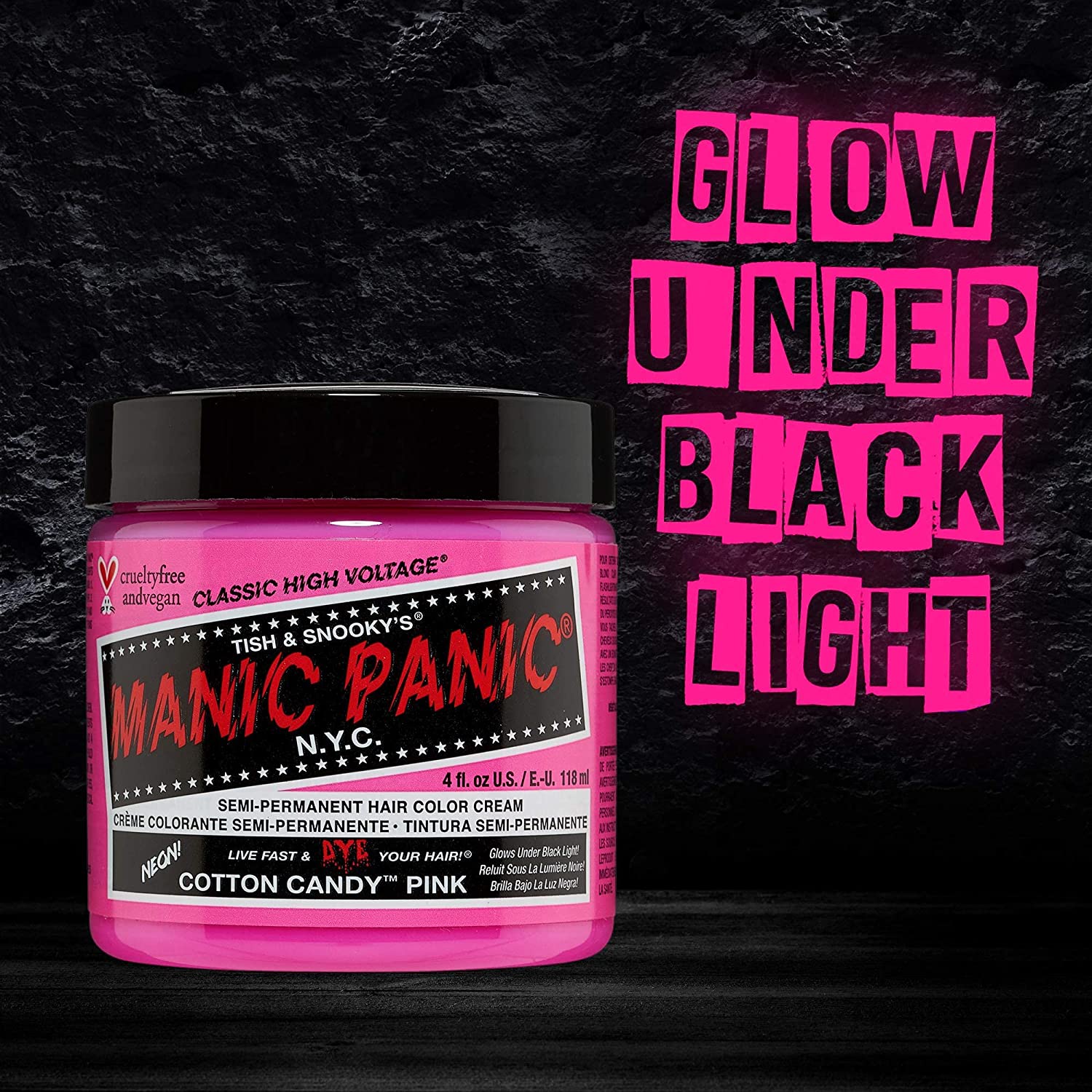 About Manic Panic
Manic Panic's headquarters is in New York City. It was established on July 7, 1977, by two sisters who had previously been members of the band Blondie. They create semi-permanent vegan hair dyes, with the glow-in-the-dark line being just one of the available options.
Manic Panic Glow in the Dark Color Options
Since Manic Panic is the best brand for glow-in-the-dark hair dye, let's explore their color offer.
Siren's Song
Cotton Candy Pink
Electric Banana
Electric Lizard
Electric Tiger Lily
Hot Hot Pink
Mermaid
Red Passion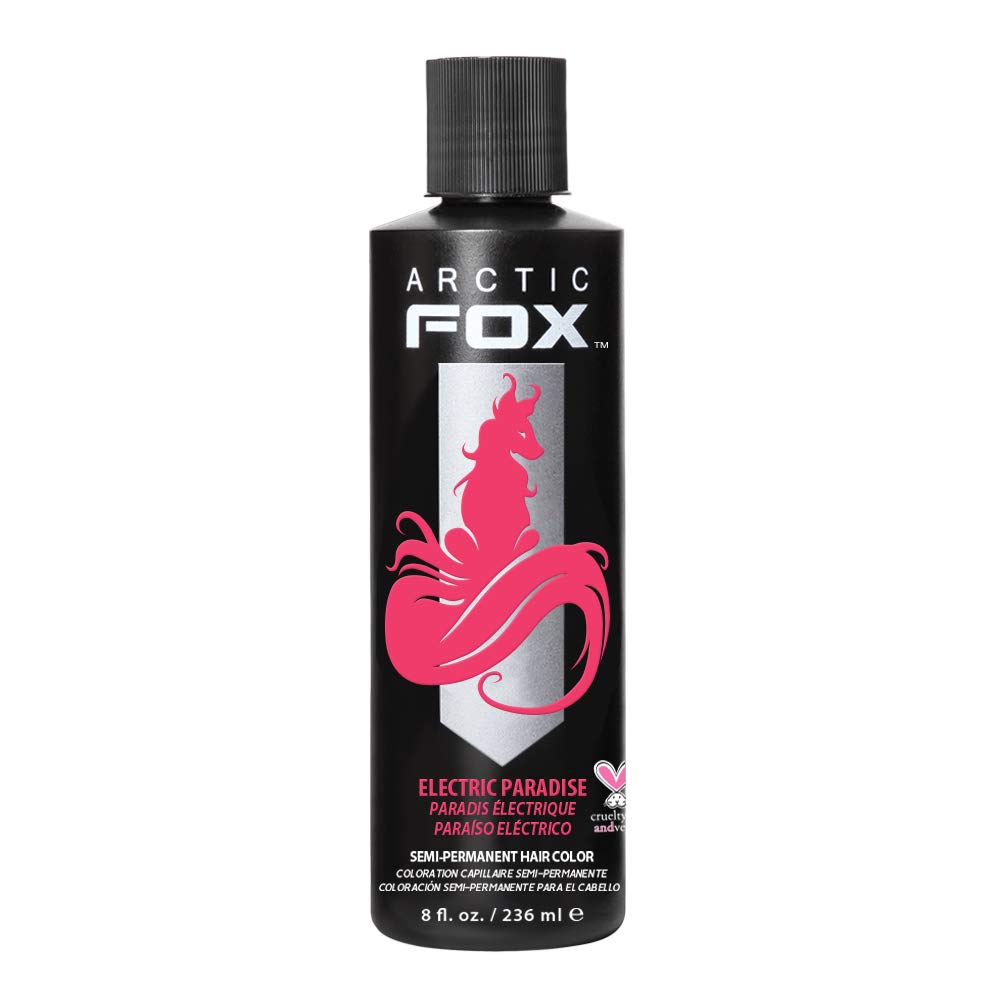 Best for Fragile Hair
If you're looking for a long-lasting direct dye that nourishes your hair and leaves it feeling healthier and more hydrated, go no further than Arctic Fox's Electric Paradise. I am in love with both color options; Electric Paradise (pink) and Neon Moon (yellow). If you're worried about harmful ingredients, this product is made without silicone, sulfate, peroxide, ammonia, and other questionable ingredients.
Specs
Price range: $10 – $20
Number of color options: 2
Type: semi-permanent
Aside from the heavenly colors, this hair dye is also a high-quality product that doesn't burn your hair when applied. You can mix multiple colors or dilute the formula if you want.
Pros
Vegan ingredients.
Safe for the fair.
26 color options.
Cons
The end result could be more vibrant.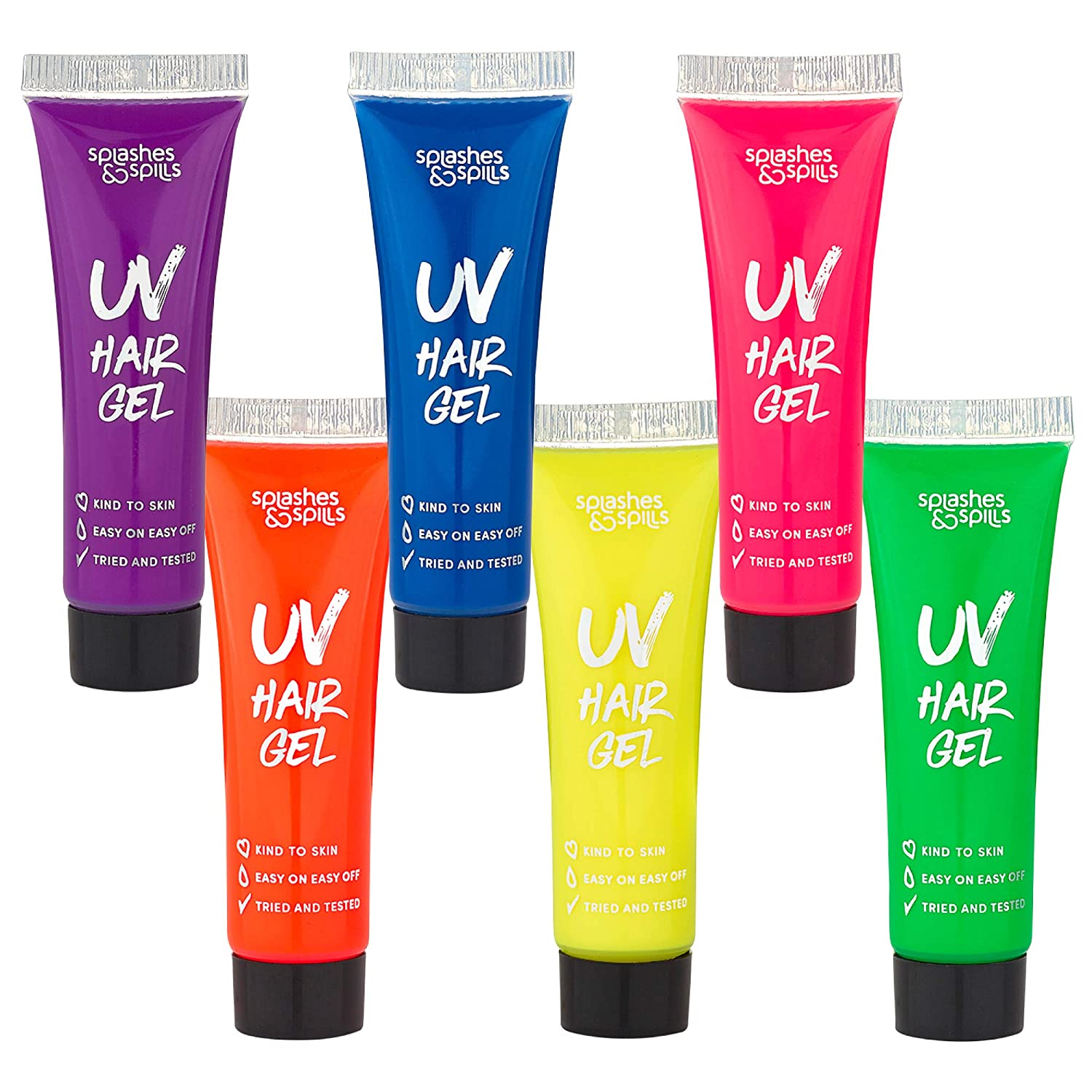 Best Value
Getting six color tubes of glow-in-the-dark hair dye for a really good price? That sounds like a banger deal! You might wonder what to do with six tubes in six different colors. You could team up with five other friends and split the expense, so each of you gets a hair dye. Or you could combine them to make different colored hair strands.
Specs
Price range: $10 – $20
Number of color options: 6
Type: Temporary
Whatever your reasons for purchasing this set are, you won't regret it. The pigment is quite strong, so you can get really good results if you have light hair. The colors will be much darker and less vivid if you have brown or dark hair.
Pros
Can share with friends.
Include six different colors.
Washes off quickly.
Cons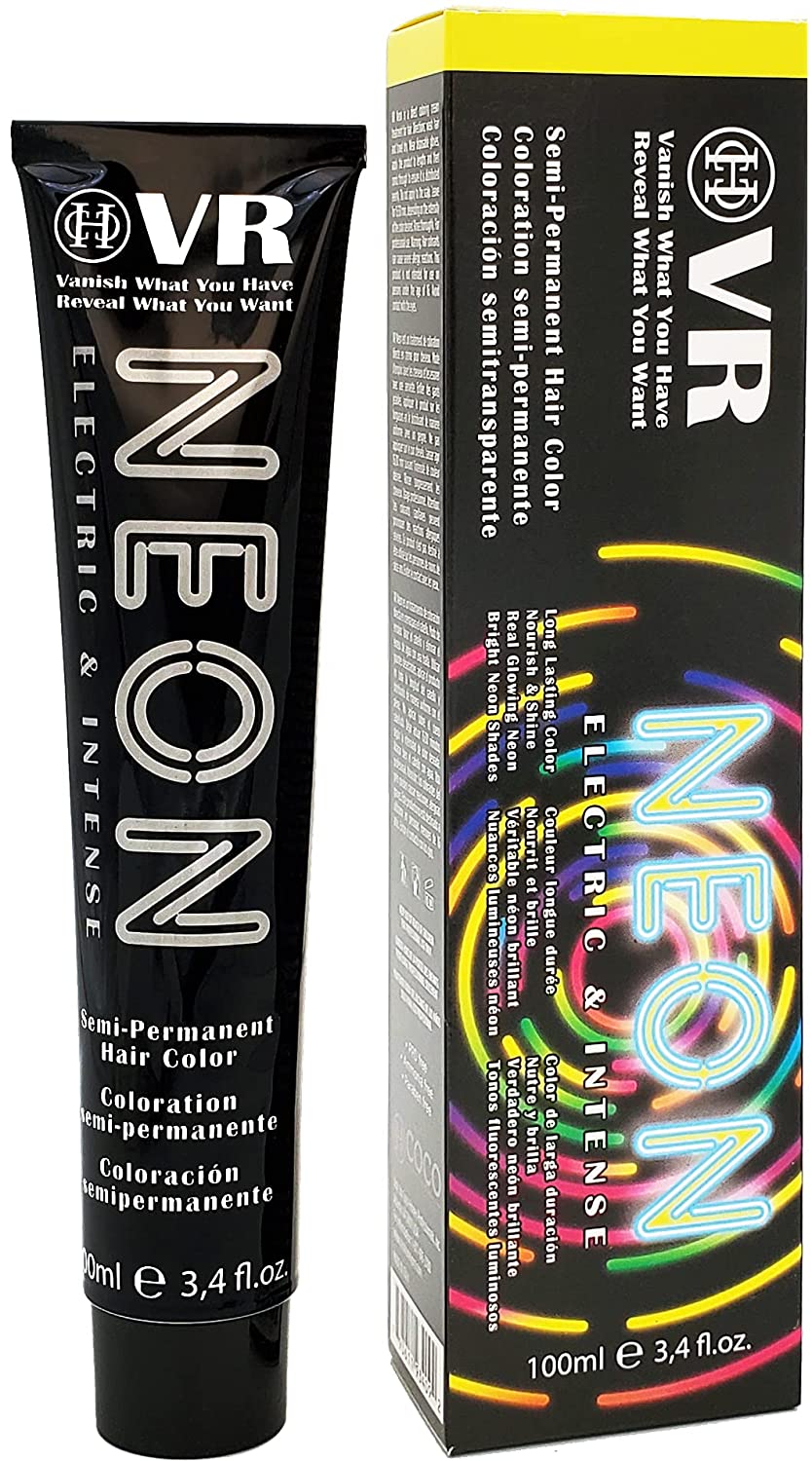 Budget Pick
Glow-in-the-dark hair dye is usually more expensive than regular dye, so I don't blame you if you're looking for a cost-effective solution. The Cocohoney VR Neon Hair Dye offers intense, long-lasting color in seven vibrant shades.
Specs
Price range: $10 – $20
Number of color options: 7
Type: semi-permanent
The easy-to-use dye is ready to use and requires no peroxide. It contains avocado, shea, and olive oil to nourish and protect your hair during application.
You have to shampoo your hair before you apply the dye. You don't need a developer, which is always good news because it puts less strain on your hair. Made from quality ingredients, this Italian formula is the go-to choice for people who want an affordable option. The color lasts up to 20 washes, so if you don't overwash your hair, you might get long use out of this product.
Pros
Quality ingredients.
It leaves the hair shiny.
Contains hair-nourishing oils.
Cons
The orange shade isn't really orange.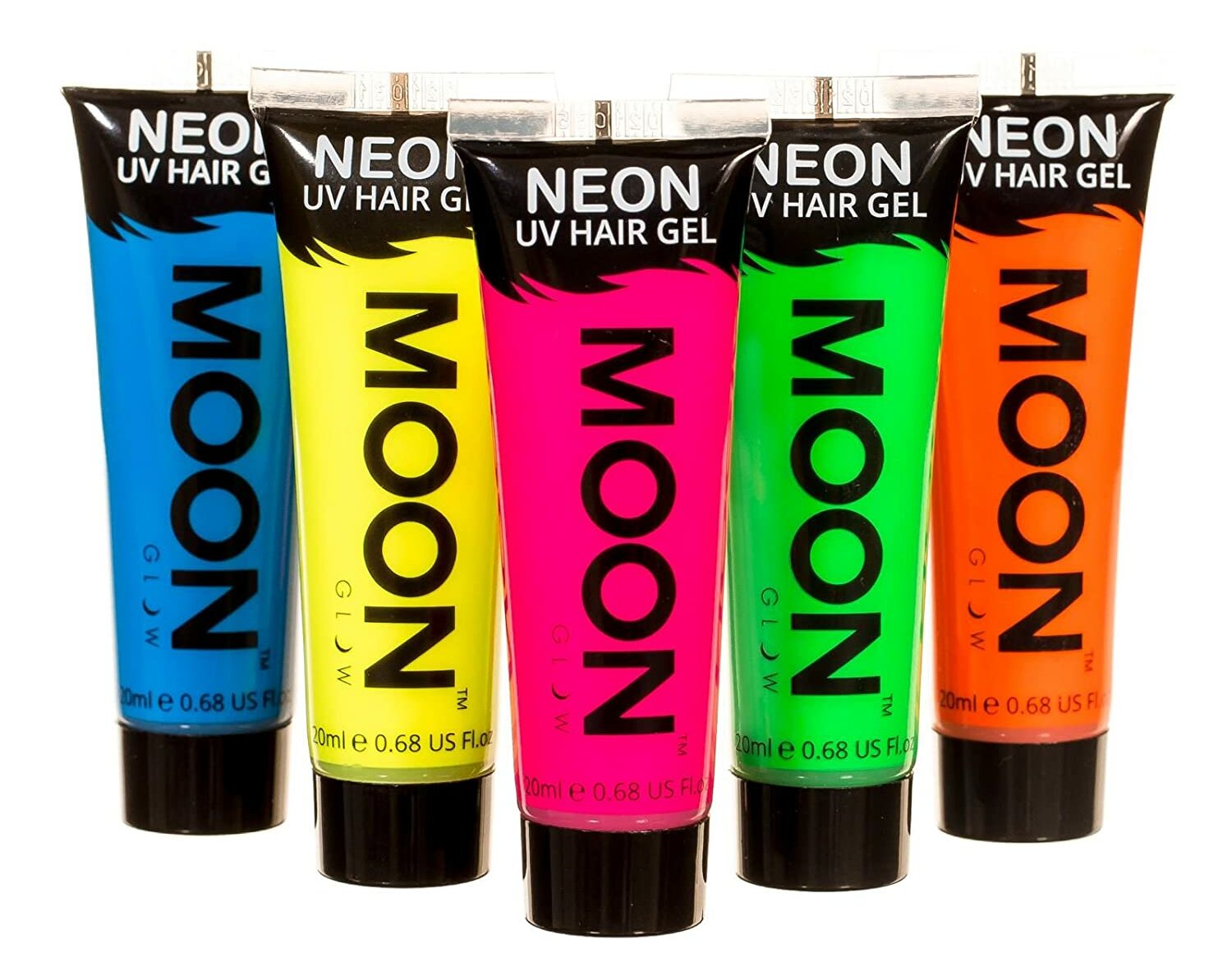 Editor's Choice
Moon Glow is another temporary hair dye option for all who want to go crazy with your hairdo for the night. It comes with five different colors in a single set, including powerful hues of pink, green, glue, orange, and yellow (purple and red colors would have been nice too).
Specs
Price range: $10 – $20
Number of color options: 6
Type: Temporary
I like that the ingredients are not toxic and that you can eliminate this color with a single shampoo wash. It's not a good choice for people wanting a permanent look.
Pros
Easy to apply.
Vibrant colors.
Five colors in a single set.
Cons
Comes out easily throughout the day.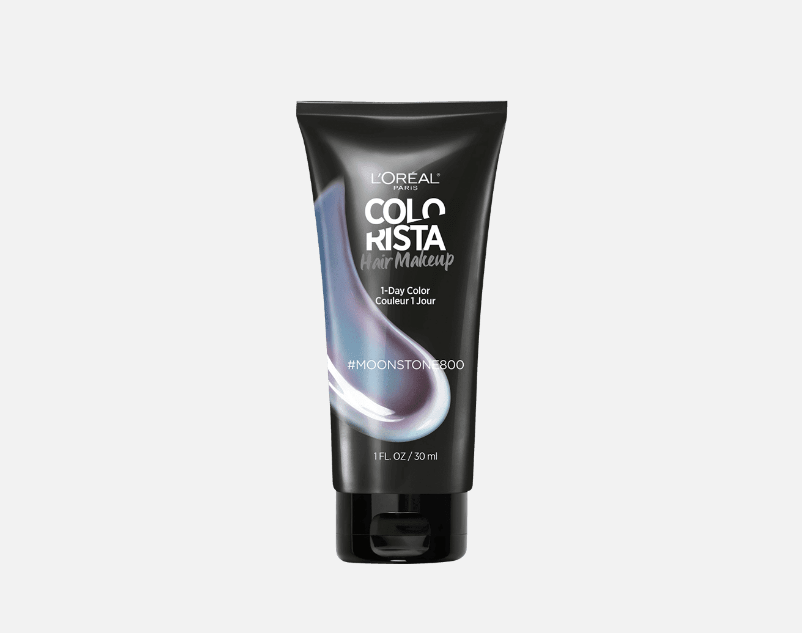 Best One-Day Dye
Is there a special party coming up, and you want to give your hair a special makeover without the long-term consequences? Well, guess what? There is glow-in-the-dark hair dye that goes away as soon as you wash it. Colorista Hair Dye comes in 14 vibrant shades, all with a one-day formula. You can mix and match colors to get the perfect look, and there's no hair damage.
Specs
Price range: $5 – $10
Number of color options: 14
Type: Temporary
Another thing I particularly like about this product is the gentle formula. Hair damage is something many of us struggle with, and if you dye your hair regularly, you know the struggle of keeping it healthy.
Pros
Easy to clean.
Lots of color options.
Harmless formula.
Cons
How to Care for Your Glow-in-the-Dark Hair
Worried that glow-in-the-dark paint might ruin your hair? Here are my tips and tricks to ensure your hair stays as healthy as possible.
Keep It Clean
Just like your regular hair, you'll need to shampoo and condition your glow-in-the-dark hair to keep it looking its best. Be sure to use a gentle shampoo and conditioner that won't strip the color from your hair.
Avoid Heat Styling
Heat styling can damage your hair, regardless of its color. If you want to keep your glow-in-the-dark hair looking healthy, avoid using hot tools as much as possible. Let your hair air dry whenever possible, and if you must use a blow dryer, use the lowest setting possible.
Use a UV Protectant
Since glow-in-the-dark hair is more susceptible to sun damage, it's important to use a product that will protect your hair from UV rays. Look for a product that contains UV filters or SPF to help keep your hair looking its best.
Be Careful with Brushing
Brushing your hair too vigorously can cause breakage, especially if your hair is already damaged. When brushing glow-in-the-dark hair, be sure to use a wide-toothed comb and start from the bottom of your hair, working your way up.
Touch Up as Needed
Glow in the dark hair will eventually fade, so you may need to touch up the color every few weeks to keep it looking its best. You can touch up your own color at home or go to a salon for professional help.
Deep Condition Your Hair Regularly
Deep conditioning your hair once or twice a week will help to keep it hydrated and prevent damage. You can purchase a deep conditioning treatment from a salon or drugstore or make one home using coconut oil or olive oil.
Trim Your Hair Regularly
Trimming your hair every 6-8 weeks will help to keep it healthy and prevent split ends from forming. If you have glow-in-the-dark hair, ask your stylist for trims rather than full haircuts to avoid losing too much of the color.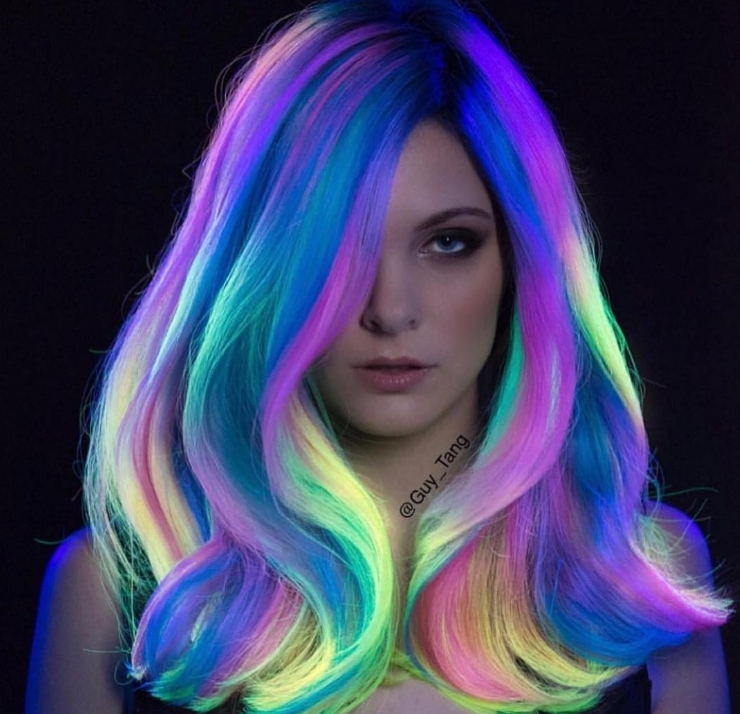 Alternatives to Consider
Here are some viable alternatives if you're not convinced about the safety or effectiveness of glow-in-the-dark hair dyes.
Temperature Reactive Hair Dye
Temperature-reactive hair dye is a type of hair color that changes in response to changes in temperature. Unlike traditional hair dyes, which are formulated to maintain the same shade at all times, TR dyes will darken or lighten depending on how warm or cool the ambient temperature is.
This makes them ideal for use during the summer or winter months as they adapt to changing environmental conditions throughout the year.
Temperature-reactive hair dye typically consists of a special base and a mixture of pigments that react to the light and heat from outside sources. When applied to pre-lightened hair, the result is a vibrant burst of color lasting for weeks or even months.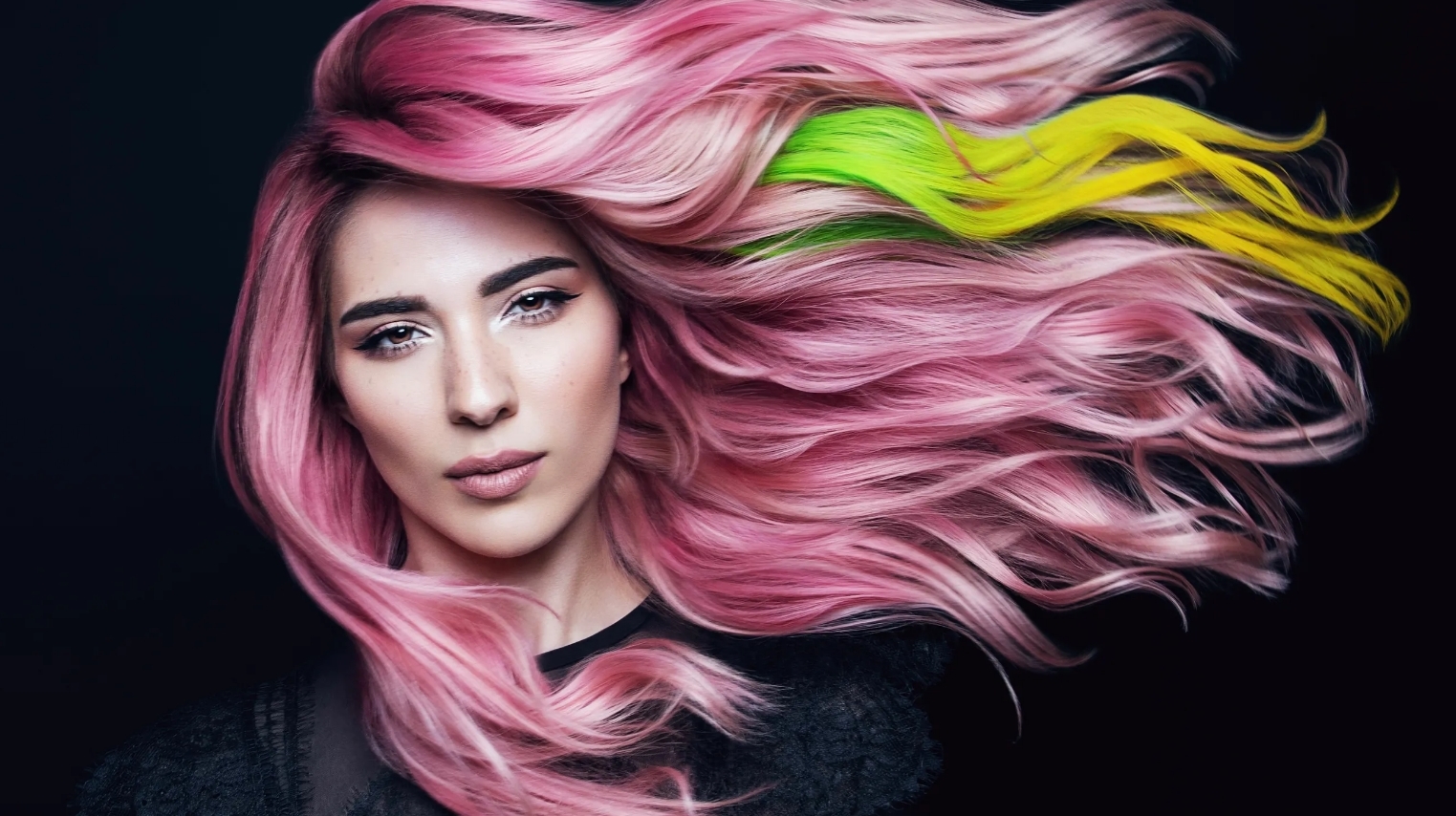 Pastel Hair Chalk
Pastel hair chalk is a popular beauty product used to add subtle pops of color to one's hair. Made from a special blend of gentle, non-toxic mineral pigments, pastel hair chalk can be applied directly to strands using either a soft or firm texture, depending on one's preferences.
Unlike dye or permanent hair color, pastel hair chalk does not require extensive treatment beforehand. It provides only temporary results that typically last for around three weeks before gradually washing away.
However, many people prefer this type of coloring since it allows them to experiment with new styles and colors without the commitment and hassle of semi-permanent dye.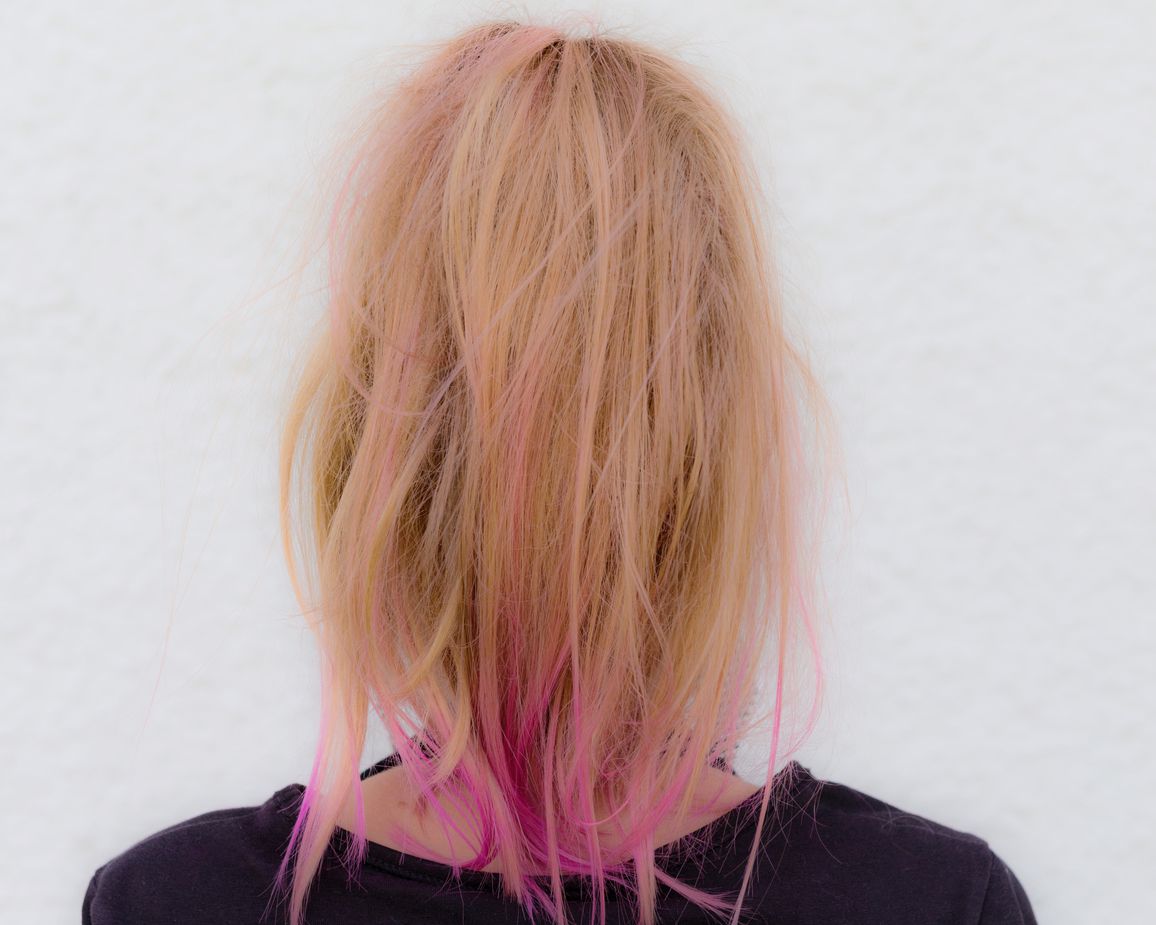 Neon Hair Gels
Neon hair gels are special hair products containing bright, highly pigmented dyes. These dyes can highlight specific strands of hair and create bold hues that are sure to turn heads.
In addition to providing intense color, neon hair gels also work to condition and treat the hair, making them great for nourishing and enhancing locks of all types. And because they are made with high-quality ingredients, these gels help to keep hair looking vibrant and healthy for many weeks at a time.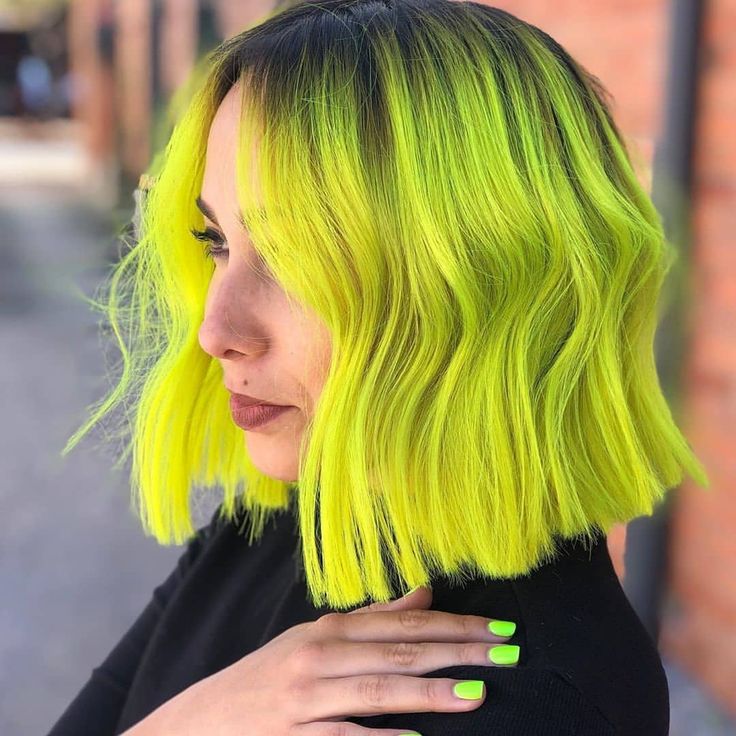 FAQs
Question: Is Glow in the Dark Hair Dye the Same as Black Light Hair Dye?
Answer: There is a lot of confusion surrounding glow-in-the-dark hair dye and black light hair dye. So, let me clear it up. Both of these products claim to change the color of your hair and make it appear to glow under certain lighting conditions, but they are actually quite different in terms of their composition and effects.
Glow in the dark hair dye typically uses fluorescent dyes that absorb shortwave ultraviolet light and emit longwave light, creating a brightening or glowing effect.
On the other hand, black light hair dye has no fluorescent properties; it just absorbs enough UV light to give off a subtle blue glow under black light conditions. So, if you're looking for truly glowing hair, go with glow-in-the-dark dye.
Question: How Does Glow in the Dark Hair Dye Work?
Answer: Good question! Hair dye that glows in the dark is a revolutionary new product that uses absorbing light and pigments to create an awe-inspiring glowing effect. This type of dye works by absorbing light during the day and then releasing that stored energy in the form of fluorescence when exposed to UV light at night.
In other words, it acts like a photovoltaic cell, absorbing photons and storing their energy for later use. The key components of this type of dye are special pigments that can absorb different wavelengths of visible light and UV radiation from sunlight.
Additionally, these pigments must be evenly distributed throughout the hair to coat each strand and produce an even glow.
Question: Is Glow in the Dark Hair Dye Safe to Use?
Answer: Glow-in-the-dark hair dye has recently become a popular trend among young people, with many eager to try out this fun and funky look. But, there has been some concern over the safety of glow-in-the-dark hair dyes, with some worried that these products may harm our health.
While there is still some debate on this topic, most scientists agree that glow-in-the-dark hair dyes are safe to use. These dyes typically contain no dangerous or toxic chemicals, and any potentially problematic ingredients are only present at very low levels.
Question: Can kids use glow-in-the-dark hair dye?
Answer: Most hair dye manufacturers label their products as unsuitable for children under 16. That's because these products contain chemicals that may cause allergic reactions.
Question: Can You Mix Glow in the Dark Hair Dye with Regular Hair Dye?
Answer: There is no clear consensus on whether it is possible to mix glow-in-the-dark hair dye with regular hair dye. Some sources claim that doing so can result in uneven coloration, clumps of diluted dye, and undesirable neon streaks within your hair. Also, the neon dye might end up diluted due to the mixture.
It may be best to consult a professional hair stylist before mixing these two types of dyes yourself, as they will have the experience and expertise necessary to get the desired results while minimizing potential risks.

Bottom Line
Glow-in-the-dark hair dye is a unique and fun way to change your hairstyle for special occasions or just to have fun. It's easy to use, comes in various colors, and can be mixed with other dyes. However, it's important to do your research before purchasing glow-in-the-dark hair dye so you know what to look for.
Manic Panic is my honest top pick for the best brand of glow-in-the-dark hair dye because their products are easy to use, have fewer chemicals, have less odor, and come in various colors. Plus, their colors are super saturated and look amazing! I'm going to give Manic Panic Cotton Candy Pink Hair Dye Color a try first and see what I get! If you want even more great recs and tips, head to our website. I've got plenty!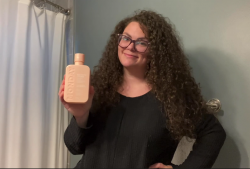 Latest posts by Candace Osmond
(see all)